Sting facts: Singer's age, wife, children, real name, net worth and more revealed
9 December 2021, 17:49 | Updated: 19 January 2022, 16:52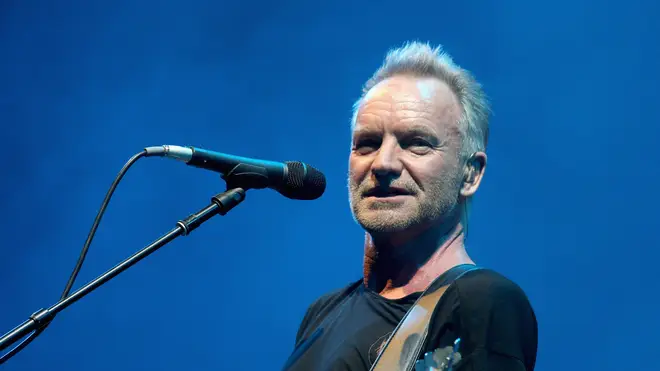 Sting is one of the most successful artists of his generation, from his days in The Police to his long solo career.
Sting has been a prolific musician, singer, songwriter, and actor over the past six decades. He was best known as the principal songwriter, lead singer, and bassist for the Police from 1977 to 1984, before launching a solo career in 1985.
His eclectic music style has included forms of rock, jazz, reggae, classical, new-age and worldbeat.
Throughout his career, Sting has received 17 Grammy Awards (including Song of the Year for 'Every Breath You Take'), three Brit Awards, a Golden Globe, an Emmy and four Oscar nominations for Best Original Song.
With his solo material and the Police combined, he has sold over 100 million records worldwide, and is a British (and Geordie) national treasure.
How old is Sting and where is he from?

2018 Grammy Awards - Sting - Englishman in New York

Sting was born on October 2, 1951. He celebrated his 70th birthday in 2021.

He was born at Sir GB Hunter Memorial Hospital in Wallsend, Northumberland, and was the eldest of four children of parents Audrey, a hairdresser, and Ernest Matthew Sumner, a milkman and engineer.

Sting grew up near Wallsend's shipyards, which made a lifelong impression on him. He helped his father deliver milk and at 10 years old he was "obsessed" with an old Spanish guitar left by an emigrating friend of his father's.

What is Sting's real name and why did he choose Sting?

Sting performing in the 1970s. Picture: Getty

Sting's real name is Gordon Matthew Thomas Sumner.

He got his nickname after he kept wearing a black and yellow jumper with hooped stripes when he played with the Phoenix Jazzmen.

Bandleader Gordon Solomon thought he looked like a bee (or according to Sting himself, "they thought I looked like a wasp"), which led to the name 'Sting'.

In the 1985 documentary Bring on the Night, a journalist called him Gordon, to which he replied, "My children call me Sting, my mother calls me Sting, who is this Gordon character?"

In 2011, he told Time that "I was never called Gordon. You could shout 'Gordon' in the street and I would just move out of your way".

Was Sting a teacher?

He was indeed!

After leaving school in 1969, Sting enrolled at the University of Warwick in Coventry, but left after just one term.

After working as a bus conductor, building labourer and tax officer, Sting attended the Northern Counties College of Education (now Northumbria University) from 1971 to 1974 and qualified as a teacher. He taught at St Paul's First School in Cramlington for two years.

Sting also performed jazz in the evening, weekends and during breaks from college and teaching.

In January 1977, he moved from Newcastle to London and joined Stewart Copeland and Henry Padovani (later replaced by Andy Summers) to form the Police. And the rest is history.

Who is Sting's wife Trudie Styler?

Sting And Trudie Styler in 2018. Picture: Getty

Sting was first married to actress Frances Tomelty from 1976 to 1984.

The couple divorced after it was revealed that Sting was having an affair with actress Trudie Styler, a close friend of Tomelty's.

Sting married Trudie Styler at Camden Registry Office in 1992.

Trudie Styler is a film producer and director, and has also appeared in various TV shows and films, including the original Poldark, Miss Marple, Midsomer Murders and Friends.

How many children does Sting have?

Sting and his family in 2014 (Left to right: Trudie Styler, Jake, Sting, Joe, Kate and Mickey). Picture: Getty

With his first wife Frances Tomelty, Sting has two children: Joseph 'Joe' (born 1976) and Fuchsia Katherine 'Kate' (born 1982).

Joe Sumner is aslo a singer-songwriter and bassist, for the rock band Fiction Plane, and he also co-founded the company Vyclone, which made an app for recording video from multiple angles.

Sting and Styler have four children together: Brigitte Michael 'Mickey' (born 1984), Jake (born 1985), Eliot Paulina (nicknamed 'Coco', born 1990), and Giacomo Luke (born 1995).

Sting and Eliot Sumner. Picture: Getty

Eliot is also a singer who now goes by the name Eliot Sumner, and was the lead singer of the group I Blame Coco. They also appeared in the film The Gentlemen. In 2015, Eliot said that they did not believe in gender labels and did not identify with a particular gender.

Mickey is an actress best known for her roles in Frances Ha, Low Winter Sun and Snowpiercer.

What is Sting's net worth?

Sting is said to have a net worth of around £287 million ($400m), according to Celebrity Net Worth.