George Michael's sister hits out at Elton John over sexuality claims
11 November 2019, 11:56
Elton recently said that George Michael "was so uncomfortable in his skin about being gay even though he said he wasn't".
George Michael's sister has hit back at Sir Elton John, over his recent comments about the late star being uncomfortable with his sexuality.
Elton told US show The Talk that George "didn't want to be here", and that he had tried to help him battle his addictions.
George's sister Melanie Panayiotou has now responded to Elton's comments, telling The Big Issue that her brother was "my 'very proud to be gay' brother, contrary to what you may have read recently".
George and Elton had been close friends for years, famously collaborating on re-recording of Elton's 'Don't Let The Sun Go Down On Me' in 1991.
However, they later fell out during the 2000s when Elton tried to help George with his drug addiction. This resulted in George publicly criticising Elton, who is known to have battled with drugs himself.
The pair eventually became friends again, and in the wake of George's death, Elton said he had "lost a beloved friend, the kindest, most generous soul and a brilliant artist".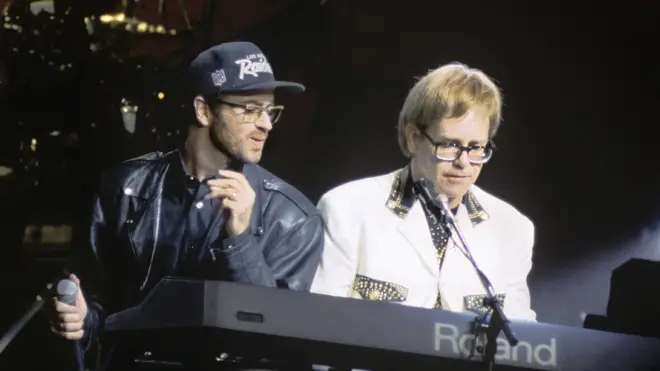 George Michael came out as gay after his arrest in 1998 for engaging in "a lewd act" in front of an undercover police officer in the States.
He later said: "I never had a moral problem with being gay. I thought I had fallen in love with a woman a couple of times. Then I fell in love with a man, and realised that none of those things had been love."
George's music forms the soundtrack of the upcoming festive romcom Last Christmas, which is loosely based on the Wham! hit of the same name,