Elton John opens up about his parents, drug use and health scares in new Smooth special
8 October 2019, 22:58 | Updated: 10 January 2020, 16:39
For someone who is in the middle of a farewell tour, Sir Elton John is having one of the busiest years of his career in 2019.
The pop icon has been the subject of his own biopic in the critically acclaimed Rocketman, he has toured the world with many more dates still to come in 2020, and he's about to release his long-awaited autobiography ME.
And that's before we even mention the recent Disney remake of The Lion King and his upcoming Devil Wears Prada stage musical.
To mark the release of Sir Elton's memoirs, Smooth Radio's Angie Greaves caught up with the legendary singer-songwriter for our new programme - Your Song: An Elton John Special - which airs today (Sunday, October 13) from 4 to 6pm.
Listen live at SmoothRadio.com, on the Global Player site or app, or say 'Play Smooth' to your smart speaker. It will also be available as a podcast immediately after broadcast.
Sir Elton opened up about his battles with drug use, his relationship with his parents and his long-lasting friendship with Bernie Taupin among other subjects.
Speaking about how music gave him confidence in life after a tricky childhood, Elton told Angie: "It was a way of getting approval. I grew up in the 1950s, when kids were told to be seen, not heard. You didn't interrupt, you didn't join in the conversation, unless you were asked to.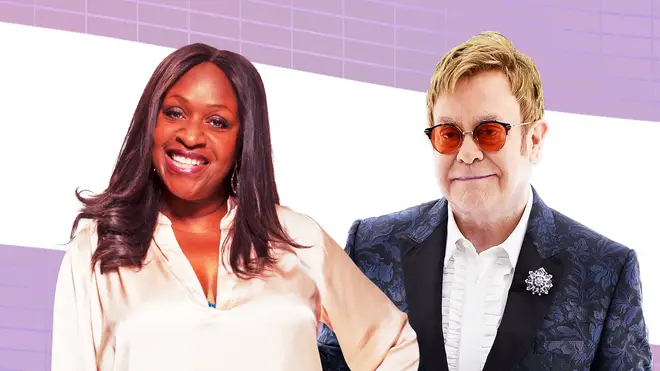 "It was the way things were. It wasn't because my parents were especially cruel, it was just the era that you lived in. Playing the piano and getting a bit of applause and attention, felt like a release for me and it felt like happiness.
"Performing was, and still is, a way of getting approval. The danger was later on in my life when everything became successful, I felt very safe on stage and I didn't know what to do off stage. That led me to all sorts of trouble. As a child, it was very comforting, because I knew I was good, and I was basically showing off."
When comparing his father Stanley - who split from his mother while Elton was a child and later had children with his second wife - to his stepfather Fred, Elton explained: "My dad wouldn't let me have pointy-toed shoes, I wore very dull clothes, he was very conservative. This was the '50s, it was a very conservative era.
"When my stepfather came along, he was very much more easy going. My dad was an officer in the airforce, Derf [Elton's stepfather Fred] was a painter decorator, and we got on like a house on fire. When my dad divorced my mum, and my mum hooked up with Derf and my dad hooked up with Edna his wife, they both found eternal happiness, and I'm very happy about that. They should never have got married in the first place."
Like in his book, Elton was very open about his years of drug use early on in his career, but explained that it helped him become the man he is today.
"I went through this 16-year on-off affair with cocaine, alcohol and marijuana," he said. "I really regret wasting so much time, so much effort into doing something so stupid. But at the end, it got me to where I am now.
"When I became sober, it was because of my substance abuse. I'd never really been able to live a life properly. I was Elton John on stage, I didn't know who I was off stage. The fantasy and the success is all very well, but there has to be some normality in your life. When I got sober, that gave me the structure."
In 2017, Elton was diagnosed with prostate cancer, and underwent surgery rather than chemotherapy. In his book, he revaled how he was "24 hours away from death".
Thankfully, he quickly recovered and he told Angie how he is healthier than ever.
"I'm the fittest I've ever been." He joked: There's hardly any of me left, there's no tonsils, there's no prostate, there's been kidney stones flying out, there's no appendix, there's no hair. I'm just a shell of a man. I'm a bionic person.
"I'm very lucky that I have a good constitution to recover from the drug use for a start. I think a lot of the stuff that happened to me in later years was probably related to the drug abuse.
The legendary performer will take his farewell tour back to London for two more nights at The O2 on November 2 and December 17, 2020. These will be the eighth and ninth shows of the tour in London, and the first and last dates of The O2 run. Tickets are on sale now.
Join Angie Greaves for a celebration of the legendary artist in Your Song: An Elton John Special at 4pm on Sunday, October 13 on Smooth Radio.