Elton John reveals he witnessed the Queen issue a royal 'slap' in new tell-all book
7 October 2019, 17:36 | Updated: 8 October 2019, 10:13
Sir Elton John has claimed he once saw the Queen "slap" her nephew during a party, according to the singer's new book, titled Me.
The 72-year-old revealed the incident was a "playful and amusing" one, involving the royal family.
Sir Elton said he saw the Queen playfully discipline Princess Margaret's son Viscount Linley when he tried to argue with her.
According to Sir Elton's autobiography, the Queen had said: "Don't argue with me, I am the Queen!"
Sir Elton wrote: "I know the Queen's public image isn't exactly one of wild frivolity, but… in private, she could be hilarious.
"I saw her approach Viscount Linley and ask him to look in on his sister, who'd been taken ill and had retired to her room.
"'When he repeatedly tried to fob her off, the Queen lightly slapped him across the face, saying, 'Don't' – SLAP – 'argue' – SLAP – 'with' – SLAP – 'me' – SLAP – 'I' – SLAP – 'am' – SLAP – 'THE QUEEN!'"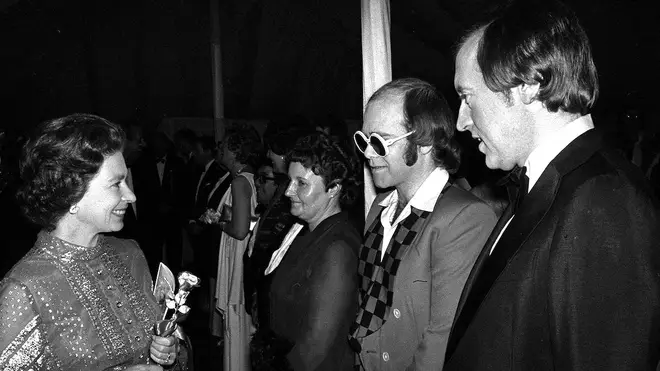 According to the 'Candle In The Wind' singer, the Viscount went on to complete the Queen's demands.
Sir Elton continued: "As he left, she saw me staring at her, gave me a wink and walked off."
He also revealed that Richard Gere and Sylvester Stallone fought over Princess Diana at a dinner party.
Sir Elton added: "The most peculiar scene developed. Straight away, Richard Gere and Diana seemed very taken with each other."
He went on to claim that Richard and Sylvester later argued in a corridor over Diana by "having a fist-fight".
Me is set for release on October 15.