8 fascinating facts about Princess Margaret
28 March 2019, 17:58 | Updated: 28 March 2019, 18:01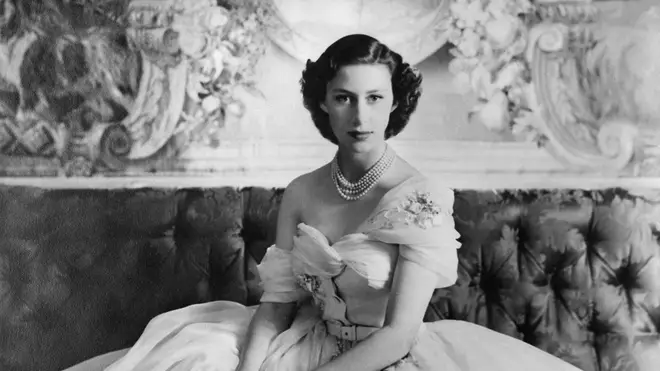 Princess Margaret was arguably the first 'celebrity' of the Royal Family.
Her life changed dramatically in 1936 at the age of 6, when her uncle King Edward VIII abdicated. Her father became King George VI, placing her third in line to the throne.
Often a controversial figure, Queen Elizabeth II's younger sister was rarely out of the newspapers during her life.
Here are all the important facts about Princess Margaret, Countess of Snowdown:
Princess Margaret children: How big was her family?

Picture: Getty

Princess Margaret had two children with Lord Snowdon.

Her eldest child is David Armstrong-Jones, 2nd Earl of Snowdon, born in November 1961.

David Armstrong-Jones and Lady Sarah Chatto in 2017.

Picture: Getty

Styled as Viscount Linley until 2017, and known professionally as David Linley, he is an English furniture maker and a former chairman of the auction house Christie's UK.

Her second child is Lady Sarah Chatto. She is a professional painter, and Vice President of the Royal Ballet.

Who was Captain Peter Townsend?

Princess Margaret and Captain Townsend.

Picture: Getty

Captain Peter Townsend was a Royal Air Force officer, flying ace, courtier and author. He was also Equerry to King George VI from 1944 to 1952 and for Queen Elizabeth II from 1952 to 1953.

By 1953, he was divorced from his first wife, and proposed to Margaret after a short romance. He was 16 years older than her, and had two children from his previous marriage. Margaret accepted and told her sister.

The Queen's consent was required by the Royal Marriages Act 1772. However, the Church of England refused to accept the remarriage of divorced people. The Queen told Margaret: "Under the circumstances, it isn't unreasonable for me to ask you to wait a year."

The British Cabinet refused to approve the marriage, and Winston Churchill told the Queen that Parliament would not approve a marriage that would be unrecognized by the Church of England, unless Margaret renounced her rights to the throne.

Eventually, Margaret decided not to marry Townsend. He died of stomach cancer in 1995, in France, at the age of 80.

Princess Margaret husband: Who was Antony Armstrong-Jones?

Princess Margaret and Antony Armstrong-Jones.

Picture: Getty

Princess Margaret first met photographer Antony Armstrong-Jones at a supper party in 1958.

She married Armstrong-Jones at Westminster Abbey on 6 May 1960, and reportedly accepted his proposal a day after learning from Peter Townsend that he intended to marry a young Belgian woman,[64] Marie-Luce Jamagne.

The ceremony was the first royal wedding to be broadcast live on TV, and it attracted viewing figures of 300 million worldwide.

However, both Margaret and Lord Snowdon had extramarital affairs, and their divorce was confirmed in 1978. After his divorce from Margaret, Lord Snowdon married Lucy Mary Lindsay-Hogg, and they had one daughter together. He passed away at the age of 86 in 2017.

Princess Margaret wedding dress: Who designed her gown?

Picture: Getty

Margaret's wedding dress was designed by Norman Hartnell, and worn with the Poltimore tiara.

The gown was made from silk organza and the skirt comprised of 30 metres of fabric.

The dress now belongs to the British Royal Collection, and is part of a display of royal wedding dresses at Kensington Palace in London.

Who else did Princess Margaret have relationships with?

Princess Margaret and Roddy Llewellyn.

Picture: Getty

Margaret is said to have had her first extramarital affair in 1966, with her daughter's godfather Anthony Barton, a wine producer. A year later, she had a one-month affair with Robin Douglas-Home, a nephew of former British Prime Minister Alec Douglas-Home.

There have also been unproved claims that she was romantically involved with Mick Jagger, Peter Sellers, David Niven, Warren Beatty and Australian cricketer Keith Miller.

In 1973, Margaret met Roddy Llewellyn, who was 17 years younger than her. Margaret described their relationship as "a loving friendship". In 1976, a picture of Margaret and Llewellyn in swimsuits on Mustique was published on the front page of the News of the World. Soon after, the Snowdons publicly acknowledged that their marriage had broken down.

Princess Margaret death and funeral: How did she die?

Princess Margaret in 2001.

Picture: Getty

Princess Margaret's later life was affected by illness. Having smoked cigarettes since the age of 15, she continued to smoke heavily for many years.

In January 1980, Margaret underwent surgery "to remove a benign skin lesion". Five years later, she had part of her left lung removed.

In 1991, she gave up smoking, but continued to drink heavily. In January 1993, she was admitted to hospital for pneumonia. She also experienced a mild stroke in 1998.

In 1999, she suffered severe scalds to her feet in a bathroom accident, which led her to require support when walking, and sometimes used a wheelchair. She had become bedridden by late 2000.

Further strokes in 2001 left her with partial vision, and paralysis on the left side. Her final public appearances were at the 101st birthday celebrations of her mother in August 2001, and the 100th birthday celebration of her aunt, Princess Alice in December.

Princess Margaret died at the King Edward VII's Hospital, London on February 9 2002, at the age of 71, after suffering another stroke.

Picture: Getty

Her coffin, draped in her personal standard, was taken from Kensington Palace to St James's Palace before her funeral. The funeral was held on February 15 2002, the 50th anniversary of her father's funeral.

The ceremony was a private service at St George's Chapel at Windsor Castle, for family and friends. Her ashes were placed in the tomb of her parents, King George VI and Queen Elizabeth The Queen Mother (who died seven weeks later). A state memorial service was also held at Westminster Abbey on April 19, 2002.

What was Princess Margaret's net worth?

Margaret's fortune was estimated to be around £20 million, most of which was inherited from her father.

She also inherited pieces of art and antiques from her grandmother Queen Mary, while Dame Margaret Greville left her £20,000 in 1943.

In 1999, her son, Lord Linley, sold his mother's Caribbean residence Les Jolies Eaux for a reported £2.4 million. Following her death, she left her £7.6 million estate to her two children, which was cut down to £4.5 million after inheritance tax.

Who plays Princess Margaret in The Crown?

The Crown - Season 2 | Trailer: Margaret [HD] | Netflix

In the Netflix drama The Crown, which is based on Queen Elizabeth II's reign as monarch, Margaret is played by British actress Vanessa Kirby in the first two seasons.

For seasons three and four, she will be played by Helena Bonham Carter.

Margaret has also been portrayed on screen by Lucy Cohu in The Queen's Sister, by Bel Powley in A Royal Night Out and Ramona Marquez in The King's Speech.