Princess Anne facts: Princess Royal's age, husband, children, net worth and more revealed
4 May 2023, 10:48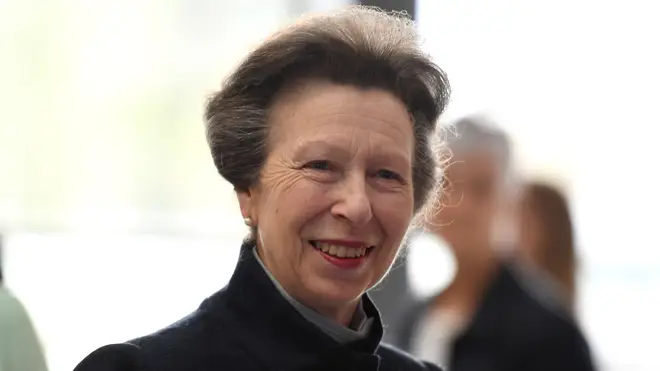 Princess Anne was the Queen's second child, and perhaps the hardest working of all the Royal Family.
The Princess Royal began her royal duties when she became an adult, and was a respected equestrian, winning one gold medal in 1971 and two silver medals in 1975 at the European Eventing Championships.
In 1976, she even became the first member of the British royal family to have competed in the Olympic Games.
Today, Anne performs official duties and engagements on behalf of the King, and the Queen before him. She holds patronage in over 300 organisations, and her charity work usually revolves around sport, sciences, people with disabilities, and health in developing countries.
She has worked with Save the Children for over 50 years, and her work earned her a nomination for the Nobel Peace Prize in 1990.
Here are all the important facts about Princess Anne:
How old is Princess Anne?

Princess Anne in 1971. Picture: Getty

Princess Anne was born on August 15, 1950. She celebrated her 72nd birthday in 2022.

She was born during the reign of her grandfather, King George VI, at Clarence House.

Anne was the second child and only daughter of then-Princess Elizabeth, Duchess of Edinburgh, and Philip, Duke of Edinburgh.

At the time of her birth, she was third in the line of succession to the British throne. She rose to second after her mother's accession, and she is currently 16th in line.

Who was Princess Anne's first husband?

Anne with Mark Phillips in 1982. Picture: Getty

Anne first met Mark Phillips, who was a lieutenant in the 1st Queen's Dragoon Guards, in 1968 at a party.

Their engagement was announced in May 1973. In November that year, the couple married at Westminster Abbey, in a televised ceremony, with an estimated audience of 100 million.

Phillips was offered an earldom, but he declined. Because of this, their children were born without titles.

In August 1989, Anne and Phillips announced their separation. By this point, they were romantically linked with other people. They shared custody of their children, and divorced in 1992.

Who are Princess Anne's children?

Zara and Peter Phillips. Picture: Getty

Anne and her husband had two children: Peter (born 1977) and Zara (born 1981).

Zara is also an equestrian and Olympian, and is married to former rugby player Mike Tindall.

Peter currently works as a managing director for SEL UK, a boutique sports management company.

Anne and Phillips have five grandchildren.

Who is Princess Anne's husband now?

Anne and husband Timothy in 2018. Picture: Getty

Anne met Timothy Laurence, a Commander in the Royal Navy, while he was serving on the Royal Yacht Britannia.

Their relationship began in early 1989, three years after he was appointed as an equerry to the Queen.

The couple married at Crathie Kirk near Balmoral Castle, in December 1992, shortly after her divorce from Mark Phillips.

Anne became the first royal divorcée to remarry since Princess Victoria Melita of Saxe-Coburg and Gotha, granddaughter of Queen Victoria.

The couple live between an apartment at St James's Palace and Gatcombe Park.

What is Princess Anne's net worth?

According to Celebrity Net Worth, Princess Anne has an estimated net worth of £21.7 million ($30m).