Peter Phillips facts: Royal's age, wife, children, parents, net worth and more revealed
4 May 2023, 11:43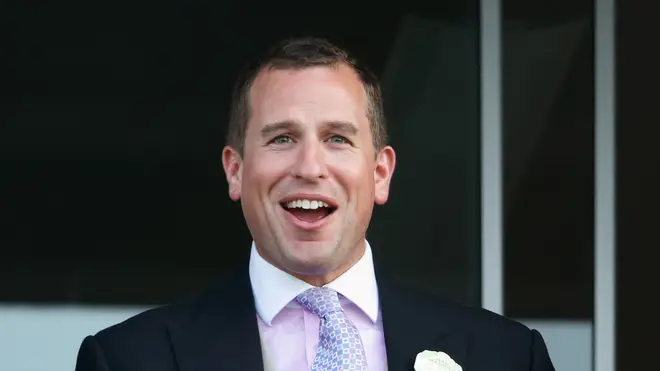 Peter Phillips is a high-ranking member of the Royal Family, but you might know much about him compared to the likes of William and Harry.
The Queen's grandson Peter Phillips was at one stage fifth in line to the throne.
But who is he, how many kids does he have, and where is Peter in line to the throne now? Here's your handy guide:
Who is Peter Phillips and who is his parents?

Peter Phillips. Picture: Getty

Peter Phillips is the oldest child and only son of Anne, Princess Royal, and her first husband, Captain Mark Phillips.

He was also the eldest grandchild of Queen Elizabeth II and Prince Philip.

Peter was born on November 15, 1977, and celebrated his 45th birthday in 2022.

After graduating from university in 2000, he worked for Jaguar Racing, followed by Williams Racing.

He left Williams in 2005 for a job as a manager at the Royal Bank of Scotland in Edinburgh. In 2012, he left RBS to take on a new role as managing director at SEL UK.

The children of Princess Anne do not have royal titles because they are descended from the female line.

Mark Phillips refused the offer of an earldom when he married, so his children also do not have titles.

He was fifth in line to the throne when he was born, but he is now 17th.

Who is Peter Phillips' ex-wife Autumn Phillips?

Autumn Phillips. Picture: Getty

Born Autumn Kelly, Autumn Phillips and her twin brother Chris were born in Montreal, Quebec, Canada to Kathleen 'Kitty' and Brian Kelly, an electricity company executive.

Autumn attended McGill University, working as a bartender, model, and actress, appearing in the 1996 film Rainbow, and later in the TV series Sirens.

She graduated in 2002, with a Bachelor of Arts degree in East Asian studies, and she started a career as a management consultant.

Autumn attended the 2003 Canadian Grand Prix, where she met Peter Phillips – who was working for Williams F1, while interviewing with the Canadian Security Intelligence Service. She didn't know until six weeks later that he was the Queen's grandson.

The Wedding of Peter Phillips to Autumn Kelly in 2008. Picture: Getty

She moved to the UK, living with Peter in Kensington, London. She later worked as a personal assistant to famous broadcaster Sir Michael Parkinson.

The couple married on May 17, 2008, at St George's Chapel at Windsor Castle.

When did Peter and Autumn Phillips announce their divorce?

Peter and Autumn in 2019. Picture: Getty

They announced their separation in early 2020.

A statement issued on the couple's behalf said the decision to divorce was "the best course of action for their two children and ongoing friendship".

They will share custody of their children.

Both of their families were "sad" but "fully supportive" of the decision to "co-parent", the statement explained.

The couple told the Queen and other royal family members about their decision in 2019.

"The decision to divorce and share custody came about after many months of discussions and although sad, is an amicable one," the statement read.

It added: "Peter and Autumn have requested privacy and compassion for their children while the family continues to adapt to these changes."

How many children does Peter Phillips have?

The Phillips family in 2017. Picture: Getty

Peter and Autumn's first child, and the Queen's first great-grandchild, Savannah, was born on December 29, 2010. She is the first Canadian citizen to be in the line of succession to the thrones of the Commonwealth realms. She is 17th in line to the throne.

On March 29, 2012, Autumn gave birth to another girl, Isla Elizabeth, who is 18th in line to the throne.

What is Peter Phillips' net worth?

According to Celebrity Net Worth, Peter Phillips has an estimated net worth of £14.4 million ($20m).