Prince William facts: Prince of Wales's age, wife, children, height and more revealed
3 May 2023, 15:43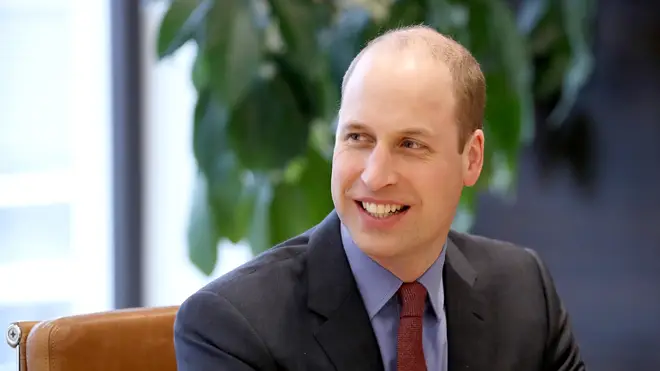 Prince William was born second in line to the throne, but how much do you know about the future King?
The Prince of Wales, formerly known as the Duke of Cambridge, regularly performs official duties and engagements on behalf of the King, and the Queen before him. He is a patron of over 30 charitable and military organisations, including Centrepoint and London's Air Ambulance Charity.
William also undertakes projects through The Royal Foundation, with his charity work focused on mental health, conservation, and emergency workers.
In 2016, the Cambridges and Prince Harry started the mental health awareness campaign 'Heads Together' to encourage people to open up about their mental health.
Here's all the big facts about the Duke of Cambridge.
How old is Prince William?

Prince William as a baby with parents Princess Diana and Prince Charles in 1982. Picture: Getty

Prince William was born at the Lindo Wing of St Mary's Hospital, London, on June 21, 1982, at 9:03 pm.

He was the first child of Prince Charles and Diana, Princess of Wales. He celebrated his 40th birthday in 2022.

What is Prince William's last name?

William's full name is William Arthur Philip Louis. He is also known as the Duke of Cambridge.

Royals don't tend to use a last name, but all descendants of Prince Philip and Queen Elizabeth II (excluding females who marry), technically have the surname Mountbatten-Windsor.

Where was Prince William educated?

William at university. Picture: Getty

William was educated at independent schools, starting at Jane Mynors' nursery school and the pre-preparatory Wetherby School, both in London. He then attended Ludgrove School near Wokingham, Berkshire.

William sat the entrance exam to Eton College and was admitted. He studied Geography, Biology and History of Art at A-Level.

He enrolled at the University of St Andrews, taking Art History, later changing to Geography, earning a Scottish Master of Arts degree with upper second class honours.

When and how did Prince William meet Kate Middleton?

William and Kate in 2010. Picture: Getty

Kate Middleton had been one of William's university flatmates, and they began dating in 2003.

She attended William's passing-out parade at Sandhurst, which was the first high-profile event that she attended as his guest.

In April 2007, it was reported that the couple had split, but in later months, she joined William on holiday and was seen at various public events.

William and Kate on their wedding day. Picture: Getty

In November 2010, Clarence House announced that Prince William and Kate Middleton were to marry. They got engaged in Kenya in October. The engagement ring given by William to Catherine belonged to his mother Diana.

The wedding took place on April 29, 2011, in Westminster Abbey, London. William and Kate have since had three children: Prince George, Princess Charlotte and Prince Louis.

The Cambridges. Picture: Getty

What is Prince William's net worth?

Prince William is estimated to have a net worth of £29.6 million ($40m), according to Celebrity Net Worth.

How tall is Prince William?

Prince William is thought to be around 6ft 2 ¾ (189.9 cm). This is slightly taller than his brother Prince Harry at 6ft 1.

When did Prince William serve in the Military and is he a pilot?

Prince William as a helicopter pilot in 2011. Picture: Getty

In December 2006, he completed 44 weeks of training as an officer cadet and was commissioned in the Blues and Royals regiment.

In April 2008, he qualified as a pilot by completing pilot training at Royal Air Force College Cranwell.

He underwent helicopter flight training in order to become a full-time pilot with the RAF Search and Rescue Force in early 2009. His service with the British Armed Forces ended in September 2013.

In 2014, the Duke took on a full-time role as a pilot with the East Anglian Air Ambulance (EAAA), based at Cambridge Airport.

William needed a civil pilot's licence and further training before being permitted to take command of the Air Ambulance. The position was paid, but he donated his full salary (estimated as about £40,000 per year) to the Air Ambulance charity. The Duke left his position in July 2017.

How did Prince William get his scar?

Prince William's scar. Picture: Getty

On June 3 1991, William was admitted to Royal Berkshire Hospital after being accidentally hit on the forehead by a fellow student with a golf club.

He did not lose consciousness, but suffered a depressed fracture of the skull, and was operated on at Great Ormond Street Hospital, resulting in a permanent scar.

In 2009, he described this scar a "Harry Potter scar". He said: "I call it that because it glows sometimes and some people notice it, other times they don't notice it at all".