Timothy Laurence facts: Princess Anne's husband's age, family and Navy career revealed
4 May 2023, 11:42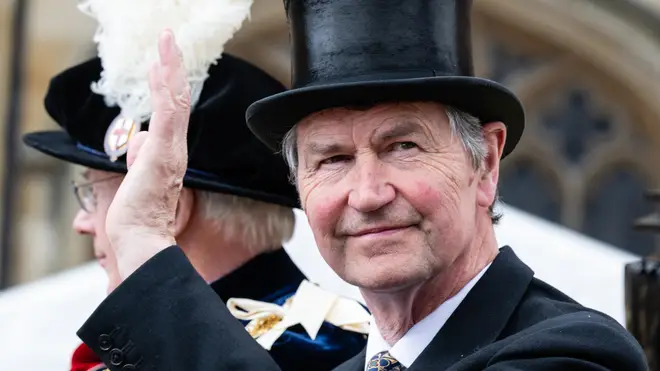 Timothy Laurence became a member of the Royal Family when he married Princess Anne in the early 1990s.
30 years on, he is often seen by Princess Anne's side at royal events, but who is he and what is his career?
Who is Timothy Laurence?

Timothy and Anne in 2021. Picture: Getty

Vice Admiral Sir Timothy James Hamilton Laurence, KCVO, CB, ADC is a retired Royal Navy officer.

Sir Timothy was first commissioned a midshipman in the Royal Navy in 1973, and made an acting sub-lieutenant two years later.

He was promoted to lieutenant 10 months early, in 1977.

Laurence then served briefly as the second Navigating Officer of the Royal Yacht HMY Britannia, and from 1980 to 1982 he was Navigating Officer of the destroyer HMS Sheffield.

Laurence was promoted to lieutenant commander in 1985. A year later, he was notified of his first staff appointment as Equerry to the Queen, a post he held until late 1989. He was promoted to commander in 1988.

Between 1992 and 1994, Laurence served on the naval staff in the Ministry of Defence. In 1994, he was appointed the first military assistant to the Secretary of State for Defence, Malcolm Rifkind, to provide military advice in his private office.

Laurence was promoted to captain in 1995. In 1998, he became a commodore, and later a rear admiral in 2004. In 2007, he was promoted to vice admiral.

Laurence became Head of Profession for the British Government's Property Asset Management community in 2009.

He retired from the navy in 2010, and now has a portfolio of mainly non-executive and charitable interests, with a particular focus on property and regeneration.

He has been chairman of the English Heritage Trust since 2015, and until 2019 was vice chairman of the Commonwealth War Graves Commission.

When did he marry Princess Anne and does he have any children?

Timothy and Anne in 1993. Picture: Getty

Laurence met Princess Anne while he served as an equerry to Queen Elizabeth II in 1986.

Their meeting occurred during a time when it was rumoured that her first marriage to Captain Mark Phillips was breaking down.

In 1989, private letters between Laurence and the Princess were revealed by The Sun newspaper.

Laurence and Anne married in December 1992, at a Church of Scotland ceremony at Crathie Kirk, near.

He received no peerage on marriage, but was made a personal aide-de-camp to the Queen in 2008, and invested in 2011 as a Knight Commander of the Royal Victorian Order.

He has no children.

How old is Timothy Laurence?

Sir Timothy was born on March 1, 1955. He celebrated his 68th birthday in 2022.

He was born in Camberwell, South London. He was the son of Commander Guy Stewart Laurence (1896–1982) and Barbara Alison Laurence (1929–2019).