Last Christmas: Emilia Clarke and Henry Golding on how George Michael shaped movie
12 November 2019, 17:12
George Michael-inspired Last Christmas is set for release on Friday (November 15), but lead stars Emilia Clarke and Henry Golding have revealed how George's legacy was of huge importance for the film.
WARNING: This article contains Last Christmas spoilers
Actress Emma Thompson said George knew all about the film and gave her his "blessing" in 2013, before going ahead with creating the movie.
Emilia, best known to fans for playing dragon-riding Daenerys in Game of Thrones, stars in the festive film as Kate, opposite Crazy Rich Asians actor Henry Golding as Tom.
Watch our interview with Emilia and Henry in the video above.
Speaking exclusively to Smooth Radio, Emilia said of George: "We were so lucky that we got his songs and that we got his blessing. Emma got his blessing right before he passed away which was incredible.
"Then we got this as of yet unheard song that was released posthumously. It was the last thing that he worked on. So, you know, we've just been blessed by George throughout this whole movie."
Noting just what George's music has meant to her, 33-year-old Emilia smiled: "I think he means our entire adolescence, because we heard him our whole lives. George is a genius songwriter.
"I feel like it's only after his death that we've seen the true genius of his lyrics as well because obviously everything has that much more meaning for us. So you're looking for kind of answers as much as you can and his words are just poetry. They're amazing."
Co-star Henry, 32, agreed and told Smooth Radio: "He went through so many iterations of who George was.
"When he was with Andrew and Wham! and then when he sort of splintered off and kind of evolved as an artist as he went on and that's why he's been such a constant of everybody. Especially everybody who grew up in the UK. George is a legend over here."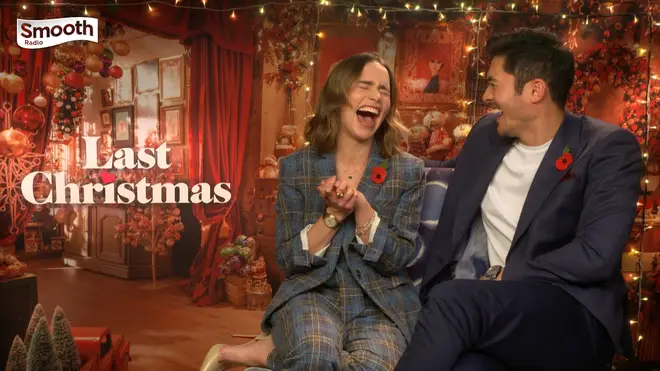 Andrew Ridgeley makes a welcome cameo in the film where he can be seen enjoying his own hit song, clapping away as Emilia's character Kate performs on stage.
Emilia explained how she had to pretend Andrew wasn't in the audience as it would be too nerve-wracking, laughing: "I forgot that he was there. I permanently forgot that he was there. As in, I mentally made myself forget that he was there.
"We started with the closeups which I could handle and then we brought everyone in and then obviously it was like, 'And Andrew is going to have his cameo now' and I was like, 'No, ahh okay. I'll try and not mess this up!'"
Henry nodded: "He's so lovely though. He's such a sweetheart!"
Emilia noted how much Andrew seemed to be enjoying the filming experience, saying: "Yes, he was beaming! It was a lovely energy coming back.
"And then I felt very much like, 'Oh no, I'm an actor singing a song as a character as opposed to me being like, 'Yo George, what's up? I'm just going to take on your song'."
Revealing her love for Smooth Radio, the home of George Michael's music, Emilia beamed: "I listen to Smooth Radio everyday. I do! Sometimes, you know when you're waking up really early for a call time and it's like 3am… I will genuinely pop on Smooth Radio because that's pretty much all I can handle!
"When I was a kid and I would be driving back from my work at the pub, I would always pop on Smooth Radio… ease me into my night."
Last Christmas is released at UK cinemas on Friday (November 15).