Madonna confirms London show will 'finally' go ahead following cancellations: 'I'm deeply sorry'
28 January 2020, 13:54 | Updated: 14 August 2020, 16:23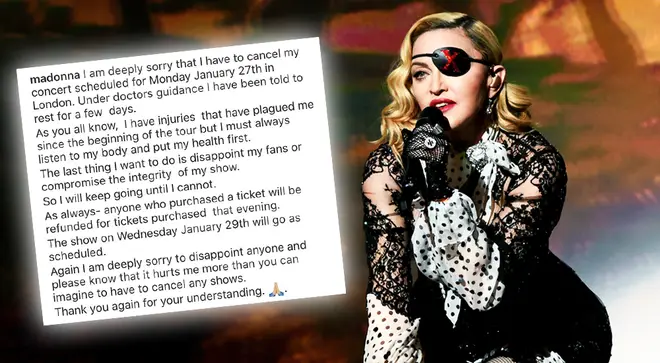 The singer pulled out of the first London show on her Madame X world tour because of an injury, but has now seemingly confirmed her future London dates will go ahead.
Madonna cancelled the first London show on her Madame X world tour, telling fans she is 'deeply sorry' and that she must put her health first.

However, Madonna has now tweeted that she has "finally made it" to the London Palladium, posting: "Hello London......... We Finally Made it #madamextheatre #thelondonpalladium."
The singer was set to give the first of 15 performances in the city on Monday, January 27, at the London Palladium – but announced just days ago that the show would not go ahead.
The star also had to pull out of her recent show in Lisbon, cancelling the concert just 45 minutes before it was due to start.
"Under doctors guidance I have been told to rest for a few days," Madonna explained in an Instagram post.
"As you all know, I have injuries that have plagued me since the beginning of the tour but I must always listen to my body and put my health first.
"The last thing I want to do is disappoint my fans or compromise the integrity of my show."
The pop star promised that all tickets purchased for the concert will be refunded, and that her show this Wednesday (January 29) will still go ahead.
"Again I am deeply sorry to disappoint anyone and please know that it hurts me more than you can imagine to have to cancel any shows," she added.
Ticketmaster – who sold the tickets for the events – have confirmed that refunds have already been issued for the previous cancelled concerts.