Robbie Williams will be replaced by Nile Rodgers on The X Factor this weekend
2 November 2018, 14:16 | Updated: 5 November 2018, 09:04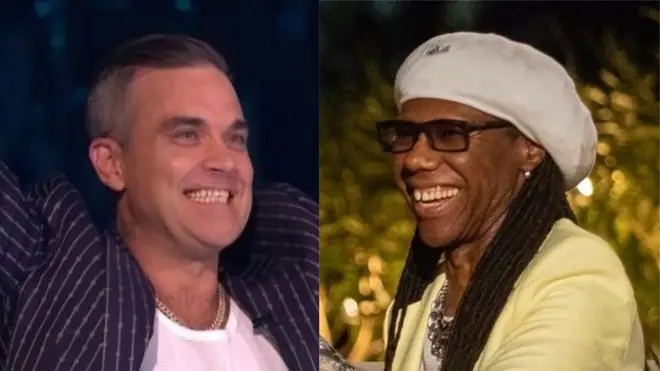 There's a lineup change on this weekend's X Factor.
Music icon Nile Rodgers will temporarily join the ITV talent show, standing in for Robbie Williams while he is away on tour in Latin America for two weeks.
Robbie will be back in his usual judge's seat on Saturday, November 24.
Nile will appear this Sunday (November 4), sitting alongside Simon Cowell, Louis Tomlinson and Ayda Williams, and will also appear on the show as a guest judge the following weekend, on November 10-11.
Meanwhile, the Chic frontman will host a special "masterclass" for Robbie's 'Groups' category this week, and will be at the studio on Saturday working closely with Robbie.
Nile previously appeared a guest advisor at Louis Tomlinson's 'Judges House' for his 'Boys' category in Ibiza earlier this series.
He said: "I had such a great time with Louis at the Judge's House in Ibiza a couple of weeks ago that when the opportunity came to step in for Robbie I could not say 'no'.
"From Chic and Sister Sledge to Duran Duran and Daft Punk, I've had great experiences with 'Groups' in my career, so I look forward to giving them as much support as I can while Rob is away!"