Tom Jones hit 'Delilah' is banned from the Six Nations playlist by Welsh Rugby Union
2 February 2023, 11:58
"I felt the knife in my hand and she laughed no more..."
Welsh Rugby Union has axed Tom Jones' massive 1967 hit 'Delilah' from the Six Nations playlist from the Principality Stadium in Cardiff.
The song by the Pontypridd-born singer has adopted as an unofficial anthem by Wales fans is usually played over the loudspeakers before rugby games at the national stadium of Wales.
The words of Jones' track – with music by Les Reed and lyrics by Barry Mason – has proved increasingly controversial over the years, with MP Chris Bryant among those calling for it to be axed before games.
A murder ballad, 'Delilah' tells the story of a man killing his partner after catching her sleeping with someone else ("She stood there laughing/ I felt the knife in my hand and she laughed no more").
A Principality Stadium spokesperson said: "Delilah will not feature on the playlist for choirs for rugby internationals at Principality Stadium.
"The WRU removed the song from its half-time entertainment and music playlist during international matches in 2015.
"Guest choirs have also more recently been requested not to feature the song during their pre-match performances and throughout games.
"The WRU condemns domestic violence of any kind. We have previously sought advice from subject matter experts on the issue of censoring the song and we are respectfully aware that it is problematic and upsetting to some supporters because of its subject matter."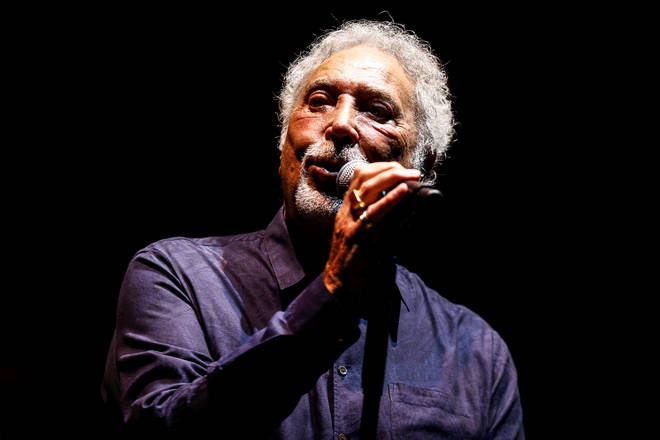 Back in 2014, Sir Tom told Digital Spy of the controversy: "I love to hear it sung at rugby games. It makes me very proud to be Welsh.
"I think if they're looking into the lyric about a man killing a woman, it's not a political statement. It's just something that happens in life that it's woman was unfaithful to him and he just loses it.
"The great thing about the song that everyone picks up on is the chorus. I don't think that they are really thinking about it."
He added: "I wasn't thinking that I was the man that was killing the girl when I was singing the song, I was acting out the part and that's what the song is.
"If it's going to be taken literally like that then I think it takes the fun out of it. I think it takes the spirit out why it's being sung."
Jones performed the track at the Principality Stadium during his show there last year, and also performed it before Wales's victory over England at Wembley Stadium in 1999.
Chris Bryant had said in 2016: "It is a simple fact that when there are big international rugby matches on, and sometimes football matches as well, the number of domestic violence incidents rises dramatically.
"I know that some people will say, 'Oh, here we go, he's a terrible spoilsport', but the truth is that that song is about the murder of a prostitute.
"I have sung Delilah as well, everybody loves doing the, 'She stood there laughing' moment, but if we are really going to take this issue seriously in Wales, we have to change how we do things."