Tina Turner's greatest ever duets: David Bowie, Mick Jagger, Rod Stewart, Bruce Willis and more
26 May 2023, 13:51 | Updated: 16 June 2023, 13:40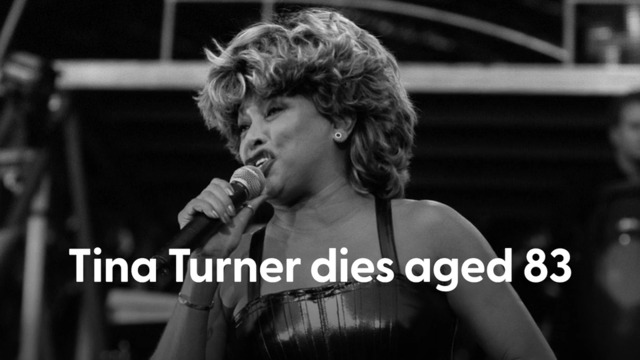 Singer Tina Turner dies aged 83
The biggest stars in pop queued up to work with the talent that was Tina Turner.
Despite being such a singular talent, Tina Turner was also the ultimate duet partner.
No matter what genre, singers from across the world of pop and rock were eager to perform with the Queen of Rock 'n' Roll.
On record and on stage, Tina went shoulder-to-shoulder with some of the biggest names imaginable, and usually came out on top, too.
We've rounded up just ten of our very favourite Tina Turner duets to celebrate her remarkable life.
with David Bowie - Tonight

Tina Turner - Tonight (with David Bowie) [Live]

David Bowie was always a massive fan of Tina Turner, and she credited him with helping to revive her career when he dragged some record execs to see his "favourite singer" live when they were on the verge of dropping her before her mid-1980s revival.

Bowie had a bit of a miss-and-hit 1980s, but one of the definite highlights was this duet with Tina Turner. One of three covers of songs he'd previously written and recorded with Iggy Pop at the end of the 1970s.

They chopped off Iggy's spoken-word-drug-overdose intro and popped in a sample of Aretha Franklin's 'Spanish Harlem' for a slick, smooth '80s pop classic. Their live duet was dripping with chemistry.

with Bryan Adams - It's Only Love

Bryan Adams and Tina Turner - It's Only Love

Originally the sixth and last single from Bryan Adams's massive 1984 album Reckless, 'It's Only Love' has emerged as a fan favourite for both artists in the years since.

"Working with Tina Turner was amazing," Bryan later said.

"I used to go to see her in the clubs when I was in my late teens/early 20s before she hit the big time. It was incredible to watch her.

"It was such a privilege to have sung with her."

with Cher - Shame Shame Shame

Cher - Shame Shame Shame (with Tina Turner) (The Cher Show, 04/27/1975)

Cher and Tina Turner were dear friends who collaborated many many times in their careers, but we've got an especially special place in our hearts for this appearance on The Cher Show in 1975.

The combination of high camp, sheer class and not one but TWO sets of superstar vocals makes this cover of the Shirley & Company hit an all-time classic music-on-TV performance.

with Mick Jagger - State of Shock / It's Only Rock 'n Roll (But I Like It) (Reprise)

Mick Jagger / Tina Turner - State Of Shock / It's Only Rock 'n' Roll (Live Aid 1985)

The Rolling Stones were sniping at each other at the time and didn't play Live Aid. Instead, Mick Jagger did a solo spot, while Ronnie Wood and Keith Richards took to the stage immediately afterwards as a backing band for Bob Dylan.

It was Mick's spot that had the edge, and that's almost entirely because of his special guest Tina Turner, who joined him for a run through his Jacksons collaboration 'State of Shock' and 'It's Only Rock 'n' Roll'.

It was towards the end of the second number that Jagger ripped off Tina's skirt in a pre-planned moment to reveal her leotard.

Trivia fans will know that Bucks Fizz originally recorded an unreleased 'What's Love Got To Do With It' a few months before Tina got her hands on it, and we'd like to think Mick's cheeky idea was an unconscious nod to the Fizz's Eurovision choreography.

with Rod Stewart - It Takes Two

Tina Turner & Rod Stewart - It Takes Two (Official Music Video) I HD REMASTERED

When it comes to immediately recognisable powerhouse vocalists, it's hard to imagine a more potent duo than Tina Turner and Rod Stewart.

So it was an utter delight when these two joined forces for their own version of Marvin Gaye and Kim Weston's 1960s classic.

Produced by Chic's Bernard Edwards, their take appeared on Stewart's Vagabond Heart LP in 1990, before popping up on both artists' best-ofs in the years since.

with Tom Jones – Hot Legs

Tom Jones & Tina Turner Hot Legs pq

Talking of Rod Stewart's similarities to Tina Turner, they both knew how to wrest just the right amount of swagger and sexiness out of the smuttiest lyrics to make words that really shouldn't work somehow acceptable.

So it's only good and proper that Tina covered Rod's utterly filthy 'Hot Legs', and what better way to do it than to get fellow saucepot Tom Jones along for the (ahem) ride.

with Bruce Willis - Unfinished Sympathy

Bruce Willis duet with Tina Turner

Yes, that Bruce Willis. When he wasn't redefining the action hero as an ass-kicking movie star, Bruce was more than capable of holding a tune.

Sure, he wasn't exactly on Tina Turner's level, but her generosity of spirit makes their duet – a cover of Massive Attack's 'Unfinished Sympathy' that originally featured vocals from Shara Nelson – weirdly enthralling.

with Dionne Warwick – Proud Mary

Tina Turner & Dionne Warwick - Proud Mary - 1981

The arrangement is pretty special, but the thing that makes Tina Turner's 'Proud Mary' the definitive version (sorry, Mr Fogerty) is the incredible vocal chops she brings to the performance.

It swiftly became a staple of her live sets, and on more than one occasion she didn't mind sharing the microphone with some equally-talented singers.

And here's Tina Turner and Ms Dionne Warwick belting out 'Proud Mary' at the start of the 1980s when both were still at the very top of their game.

with Beyoncé - Proud Mary

Beyoncé & Tina Turner - Proud Mary

One of the most remarkable things about Tina Turner was her sheer longevity. She started releasing music and performing live in the late 1950s and didn't stop until her retirement in 2009.

What was so lovely about that, was seeing Tina not just get the flowers she deserved from the many, many artists she inspired, but also seeing her collaborate with them.

And she always kept her voice, and kept pace with the next generation, which mean that she was every bit the equal of an imperial phase Beyoncé when they hooked up on stage for their own 'Proud Mary'.

with Paul McCartney - Get Back

PAUL McCARTNEY & TINA TURNER - "Get Back"

While many artists flounder when they try to cover The Beatles, the very best reworkings usually came from Black American musicians who made explicit the R&B and blues heritage of the Fab Four's music.

That was the case with Ike and Tina's 1972 version of 'Get Back', so it was a delight to have the song's writer Paul McCartney and Tina duet on a version during the star-studded finale of the 1986 Prince's Trust charity concert.