8 of the best albums with the worst cover art ever
25 August 2021, 15:32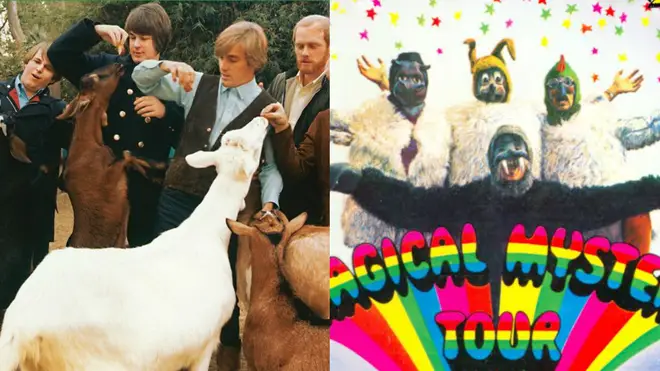 Most of the greatest albums ever made must have taken a lot of time and effort. That can't always be said about the artwork.
Here are a handful of examples of when brilliant albums had dreadful artwork, proving you should never judge a book (or album) by its cover...
The Beatles - Yesterday and Today

Picture: Capitol

Photographer Robert Whitaker took this bizarre photo of The Fab Four dressed as butchers with a load of meat and plastic baby dolls around them. While the Beatles themselves liked it, it caused a bit of an uproar and it was changed to a different cover eventually.

Producer George Martin hated it, saying: "I thought it was disgusting and in poor taste … It suggested that they were madmen. Which they were, but not in that way."

The Beach Boys - Pet Sounds

Picture: Capitol

AKA the album where The Beach Boys feed goats.

Sure, it's called Pet Sounds, but come on guys!

Simon & Garfunkel - Bridge Over Troubled Water

Picture: Columbia

It's an iconic cover in many ways, but when you take a deeper look at it, it's an odd one.

Considering these Simon & Garfunkel fell out all the time, we doubt it helped that Paul essentially photobombs Art!

Lionel Richie - Can't Slow Down

Picture: Motown

This is an example of where the cover does the opposite of the title.

Despite being called Can't Slow Down, it appears that Lionel Richie can indeed do so, as he's just having a nice sit down in an empty room.

The Beatles - Magical Mystery Tour

Picture: Parlophone

A cover so silly and bright that it's almost blinding.

No idea who signed off on this one.

David Bowie - Hours

Picture: Virgin

One of the few occasions where David Bowie might have put a slight foot wrong, this cover is just an odd mess.

It's almost as if the printer messed up at the last minute and they just went with it.

Queen - The Miracle

Picture: Parlophone/Capitol

This probably looked cool at the time, but now... oh dear.

It is rather mesmerising though, if you stare at it long enough.

Rod Stewart - An Old Raincoat Won't Ever Let You Down

Picture: Mercury

Absolutely terrifying.