The 20 best music producers of all time
25 June 2019, 18:11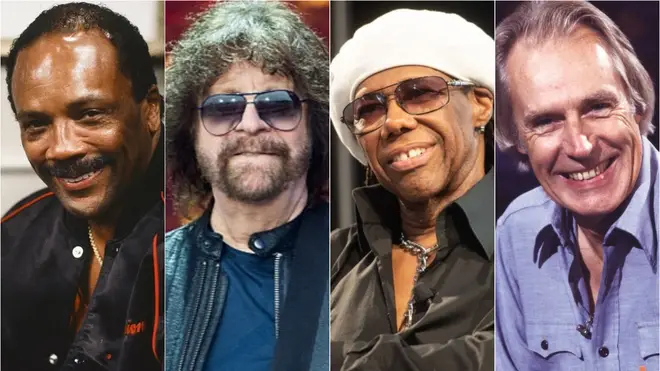 Behind every great album is a truly great music producer.
We've selected the very best music producers of all time who have impacted the world, particularly the music we play on Smooth every day:
Sam Phillips

Sam Phillips. Picture: Getty

Sam Phillips played an integral role in the early days of rock and roll back in the 1950s.

He was the founder of Sun Records and Sun Studio, in Memphis, Tennessee, and it was here that he produced tracks by Elvis Presley, Roy Orbison, Jerry Lee Lewis, Carl Perkins, Johnny Cash, and Howlin' Wolf.

He launched Elvis's career in 1954, and helped break down racial barriers in the music industry.

Jerry Wexler

Jerry Wexler with Aretha Franklin. Picture: Getty

Jerry Wexler was one of the main record industry personalities from the 1950s to the 1980s.

He even coined the term "rhythm and blues", and signed or produced the likes of Ray Charles, Aretha Franklin, Led Zeppelin, Wilson Pickett, Dire Straits, Dusty Springfield and Bob Dylan.

In 1983, he recorded with George Michael, with the most famous outtake being a rare early version of 'Careless Whisper'.

Joe Meek

Joe Meek. Picture: Getty

Joe Meek was one of the most influential producers of the 1960s, pioneering experimental pop music, overdubbing, sampling and reverb.

His singles included 'Johnny Remember Me', 'Have I the Right?' and 'Telstar' by The Tornados.

He lived a turbulent life, falling into debt and depression. On February 3, 1967, Meek killed his landlady Violet Shenton and then shot himself.

Ray Thomas Baker

Bohemian Rhapsody (The Making of 'A Night At The Opera' 30th Anniversary)

Baker co-founded Neptune (part of Trident Studios), and then met the rock band Queen. He soon began a working relationship for five albums, and produced a song you may have heard called 'Bohemian Rhapsody'.

He has also worked with artists such as Guns N' Roses, The Cars, Foreigner, Dusty Springfield, The Darkness, The Smashing Pumpkins and Journey.

Babyface

Babyface. Picture: Getty

Kenneth Brian Edmonds, known as Babyface, is an American singer, songwriter and record producer.

During his career, he has written and produced over 26 number-one R&B hits in the US, and has won 11 Grammy Awards.

He has produced countless R&B hits over the past 30 years, by artists including Boyz II Men, Mary J Blige, Beyoncé, Whitney Houston, Pink, Michael Jackson and Mariah Carey.

Linda Perry

Linda Perry. Picture: Getty

Linda Perry is an American producer, who was also the lead singer of 4 Non Blondes.

She has since founded two record labels, and written and produced many hit songs for other artists, including 'Beautiful' by Christina Aguilera, and 'Get the Party Started' by Pink.

Perry has also contributed to albums by Adele and Alicia Keys, and also signed James Blunt in the US.

Robert John 'Mutt' Lange

Robert John Mutt Lange. Picture: Getty

Lange is a South African record producer and songwriter, known for his work with multitrack recording and producing several of rock's biggest albums.

He has produced albums for artists such as Céline Dion, AC/DC, Britney Spears, Def Leppard, Foreigner, Michael Bolton, Bryan Adams, Billy Ocean, The Corrs, Maroon 5, Lady Gaga, Nickelback, and Muse among many others.

He also wrote and produced songs with his former wife, Shania Twain, including her huge 1997 album Come On Over.

Brian Eno

Brian Eno in 1973. Picture: Getty

Brian Eno is best known for his pioneering work in ambient music, and his contributions to all kinds of rock, pop, and electronic music.

He helped introduce a range of new approaches to production and recording techniques, and has been described as one of popular music's most influential and innovative people.

After recording two albums with Roxy Music, he has collaborated with artists such as David Bowie on his Berlin Trilogy, and Talking Heads' David Byrne.

He has also worked with artists including U2, Laurie Anderson, Grace Jones, Coldplay, and Damon Albarn.

Rick Rubin

Rick Rubin. Picture: Getty

Alongside Russell Simmons, Rick Rubin is the co-founder of Def Jam Recordingsand helped popularize hip-hop with artists such as Beastie Boys, LL Cool J and Run-DMC.

Rubin has since produced for artists ranging from AC/DC, Adele, Aerosmith, Ed Sheeran, Eminem, Johnny Cash, Justin Timberlake, Lady Gaga, Linkin Park, Mick Jagger, Neil Diamond and Tom Petty.

Rubin's most famous trademark is a "stripped-down" sound, including eliminating production elements such as strings, backup vocals, and reverb, and preferring a capella vocals and bare instruments.

Prince

Prince. Picture: Getty

It's easy to forget that pop superstar Prince was also top notch music producer, starting with his teenage album For You, producing and performing the whole LP on his own.

He continued to take on pretty much everything himself throughout his whole career, particular on every single element of his 1987 classic Sign 'O' The Times.

He also produced for his various side projects and bands, including The New Power Generation and Vanity 6.

Paul Epworth

Paul Epworth with Adele. Picture: Getty

English producer Paul Epworth is known for his work with artists such as Adele, Florence and the Machine, Rihanna, Paul McCartney, Coldplay and U2 among many others.

He has won 'Producer of the Year' at the BRIT Awards three times, five Grammys and the Academy Award for Best Original Song for 'Skyfall'.

Tony Visconti

Picture: Getty

Tony Visconti is an American producer, who has worked with a variety of stars since the late 1960s.

Most famously, he had a partnership with David Bowie that continued on and off from his 1968 single 'In the Heat of the Morning' to the 2016 album Blackstar.

He has produced countless albums, includings classics by T Rex, Sparks, Iggy Pop, Sparks, and Marc Almond.

Berry Gordy

Picture: Getty

You can't have a list of famous producers without Motown legend Berry Gordy.

Not only did he write many classic Motown hits, but he also had a prolific career as a producer, launching the Miracles and signing acts like the Supremes, Marvin Gaye, the Temptations, the Four Tops, Gladys Knight and Stevie Wonder.

It wasn't just the music he produced. He was also heavily involved in controlling his artists' public image, outfits, manners and choreography among other things.

Jeff Lynne

Picture: Getty

Not only does Jeff Lynne produce all of ELO's albums, but he has brought his familiar sound to various other artists over the years.

He co-produced the supergroup Traveling Wilburys with George Harrison, Bob Dylan, Roy Orbison, and Tom Petty, and was the man the Beatles called to help produce their Anthology reunion songs in 1995.

He also also produced for George Harrison, Roy Orbison, Tom Petty, Paul McCartney and Bryan Adams among many others.

Brian Wilson

Picture: Getty

Beach Boys legend Brian Wilson is widely regarded as a genius when it comes to writing and producing pop records, and has often been acknowledged as one of the most innovative songwriters of the late 20th century.

He was the first pop artist credited for writing, arranging, producing, and performing all his own material, and is one of the greatest innovators of production, thanks to his creation of the California Sound.

His work with the Beach Boys arguably led to other bands and artists becoming their own producers or co-producers, rather than relying on other people to take on the role.

Phil Spector

Picture: Getty

Phil Spector developed the iconic Wall of Sound, a music production formula that he used throughout the 1960s and 1970s, and has been copied by many artists ever since.

He is acknowledged as one of the most influential figures in pop music history, and stayed out of public life from the 1980s until the 2000s, when he was convicted of second-degree murder.

Before his downfall, Spector produced hundreds of hit records in the 1960s, including for The Ronettes, The Crystals and the Righteous Brothers. He also produced The Beatles' Let It Be album, even if not all the Fab Four were huge fans of it.

Quincy Jones

Picture: Getty

Quincy Jones's career has seen him earn a record 80 Grammy Award nominations, 28 Grammys, and a Grammy Legend Award.

He started in the 1950s as a jazz conductor, before moving to pop music and film scores. Most famously, he was the producer, alongside Michael Jackson, of Jackson's iconic albums Off the Wall, Thriller and Bad.

He also produced records for Ray Charles, Chaka Khan, Donna Summer, and James Ingram among others.

Trevor Horn

Picture: Getty

Starting out as leader of The Buggles, Trevor Horn went on to become one of the most sought-after producers of the 1980s and beyond.

He has produced an incredible amount of famous songs and albums from all sorts of genres, including ABC's Lexicon of Love, Frankie Goes to Hollywood's Welcome to the Pleasuredome, Band Aid's 'Do They Know it's Christmas', Seal's 'Kiss from a Rose', and releases by Tina Turner, Pet Shop Boys, Robbie Williams, Rod Stewart and many others.

George Martin

Picture: Getty

The Beatles may have been young geniuses, but they needed someone to get their ideas down on tape and make them sound glorious. That man was George Martin, who came up with many innovative ideas.

Most of their orchestral arrangements and instrumentation were written or performed by Martin, as well as many keyboard parts.

Paul McCartney said after his death: "If anyone earned the title of the fifth Beatle, it was George".

Nile Rodgers

Picture: Getty

The co-founder of Chic, Nile has written and produced records that have sold over 500 million albums and 75 million singles worldwide.

Not only did he and co-founder Bernard Edwards produce all of Chic's classic hits, but their music helped the launch of hip-hop via The Sugarhill Gang's sample on 'Rapper's Delight', inspiring Queen's 'Another One Bites the Dust', and being a heavy influence on dance acts like Daft Punk.

With Edwards, he wrote and produced music for many other artists, including Sister Sledge and Diana Ross. Nile went on to produce for the likes of David Bowie, INXS, Duran Duran, Madonna, Jeff Beck, Mick Jagger, Bryan Ferry, Christina Aguilera, Lady Gaga, George Michael and Daft Punk.