The Story of... 'Purple Rain' by Prince
2 June 2023, 12:59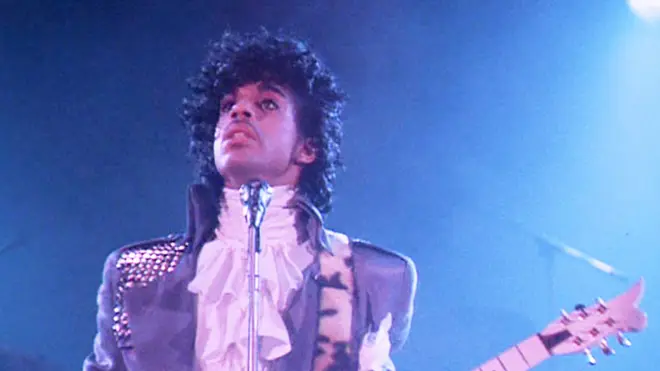 It's one of the most iconic power ballads of all time.
But what is the meaning behind one of Prince's finest-ever songs?
Here are all the important facts about 'Purple Rain' every fan should know...
It was meant to be a country duet with Stevie Nicks

Picture: Getty

You read that right.

'Purple Rain' was originally written as a country song, and was intended to be a collaboration with Fleetwood Mac singer Stevie Nicks.

According to Nicks, she received a 10-minute instrumental version of the song from Prince, with a request to write the lyrics, but she felt overwhelmed by the task.

She later said: "I listened to it and I just got scared. I called him back and said, 'I can't do it. I wish I could. It's too much for me.'"

Prince then asked his backing band to try the song: "I want to try something before we go home. It's mellow."

According to Lisa Coleman, Prince changed the song dramatically after Wendy Melvoin started playing the guitar to accompany the song: "He was excited to hear it voiced differently. It took it out of that country feeling.

"Then we all started playing it a bit harder and taking it more seriously. We played it for six hours straight and by the end of that day we had it mostly written and arranged."

Purple Rain meaning: What is the song about?

Prince - Purple Rain (Official Video)

Prince explained the meaning of 'Purple Rain' as:

"When there's blood in the sky – red and blue = purple... purple rain pertains to the end of the world and being with the one you love and letting your faith/god guide you through the purple rain."

The title track of Prince's previous album, 1999, also included similar references to an ominous purple sky ("...could have sworn it was Judgment Day, the sky was all purple...").

Prince was worried about copying Journey

Journey - Faithfully (Official Video)

After recording the song, Prince phoned Journey member Jonathan Cain, to ask him to listen to it.

Prince was concerned that it might be too similar to Journey's 'Faithfully', a song composed by Cain which had recently been in the US charts.

However, Cain reassured Prince by saying that the songs only shared the same four chords.

"I thought it was an amazing tune," Cain said. "I told him, 'Man, I'm just super-flattered that you even called. It shows you're that classy of a guy. Good luck with the song. I know it's gonna be a hit.'"

The song formed the basis of the Purple Rain movie

The album Purple Rain was actually the soundtrack to the first movie Prince made. The film won Prince an Oscar for Best Original Song Score.

The song itself was the centrepiece of the film and a main plot point. In the movie, the female members of Prince's band, Wendy Melvoin and Lisa Coleman, write a song that Prince ignores.

This sparks a rant from Wendy ("Every time we give you a song you say you're going to use it but you never do. You're being paranoid as usual..."). At the end of the film, Prince's crew has a showdown with another band (The Time). When Prince takes the stage, he introduces 'Purple Rain' as being written by Wendy and Lisa, then plays an incredible show.

Wendy and Lisa were actually real members of Prince's band The Revolution until 1987, when they left to form a duo.

It was the last song Prince ever performed

'Purple Rain' was a staple of Prince's live performances.

At the Super Bowl XLI's halftime show, 'Purple Rain' was the last song of Prince's set and appropriately started during a downpour at the stadium. When combined with the purple stage lighting, it created the song's signature image.

It was also the final song Prince performed live during his final concert in Atlanta, Georgia on April 14, 2016. He died a week later.

How did it perform in the charts?

The song peaked at number two in the US, behind 'Wake Me Up Before You Go-Go' by Wham!

In the UK, it peaked at number 8. Following Prince's death in 2016, it bettered that position by rising to number 6.

Prince wasn't the first person to use the phrase 'Purple Rain'

Rock band America used the line in their 1972 track 'Ventura Highway':

"Wishin' on a falling star
Waitin' for the early train
Sorry boy, but I've been hit by purple rain"