Prince's 15 greatest songs, ranked
2 June 2023, 12:45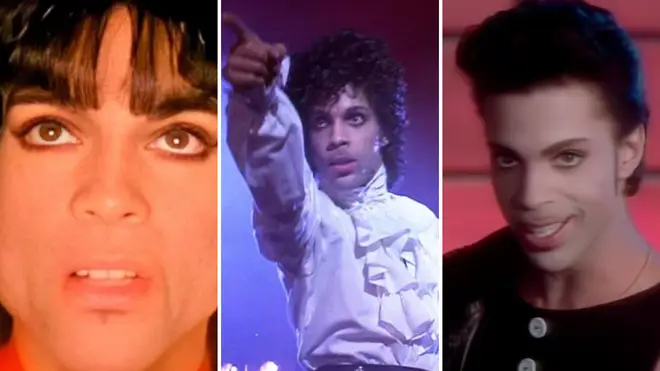 Prince was one of the most talented musicians of all time, and was a true one-off star that perfectly suited the '80s 'MTV Generation'.
He was a one-man band who wrote and produced the vast majority of his output, could play pretty much any instrument put in front of him, and he entertained millions around the world.
Picking just a handful of his best songs is no easy feat, but here's our ranking of his 15 greatest tracks for a perfect Prince playlist:
Nothing Compares 2 U

Prince - Nothing Compares 2 U (Official Music Video)

In 1985, funk band The Family was created as an outlet to release Prince's music, and a version of the song appeared on their only album, also called The Family.

Prince later released a live duet version with Rosie Gaines in 1993, but his original 1984 recording was not released until 2018, when it was issued as a single by Warner Bros.

Sinead O'Connor covered the song in 1990, giving her a humongous international hit.

Gold

Prince - Gold (Official Music Video)

This song was released at at time where Prince's stage name was an unpronounceable symbol, from his 1995 album The Gold Experience.

He was particularly proud of the song, describing it as the next 'Purple Rain' to reporters before the album's release.

I Would Die 4 U

Prince - I Would Die 4 U (Official Music Video) (Live from Landover, MD - November 20, 1984)

Taken from Purple Rain, this uptempo dance song was a top 10 hit around the world for Prince.

The song is about Jesus Christ's message to his followers, saying: "U — I would die 4 U, darling if U want me 2" and "if you're evil I'll forgive you".

Darling Nikki

Prince & The Revolution - Darling Nikki (English Subs)

Though this song wasn't released as a single, it gained notoriety for its sexual lyrics and references to... naughty things.

Due to its lyrical content, Tipper Gore founded the Parents Music Resource Center, which eventually led to the use of Parental Advisory stickers on album covers.

In the film Purple Rain, the song is directed toward Apollonia Kotero's character, when she decides to work with Prince's character's rival. Foo Fighters later recorded a rock cover in 2003.

Raspberry Beret

Prince - Raspberry Beret (Official Music Video)

This was the lead single from Prince's 1985 album Around the World in a Day.

The song tells the story of a teenage romance and first sexual experience with a girl who wears the titular hat. It was apparently inspired by a deleted scene from Purple Rain, where The Kid and Apollonia made love in a barn.

Little Red Corvette

Prince - Little Red Corvette (Official Music Video)

From Prince's 1999 album, this was his biggest hit at the time, breaking into the US top 10.

Another example of Prince's risque songs, here he describes a one-night stand with a beautiful woman, urging her to "slow down" and "find a love that's gonna last" before she destroys herself.

I Wanna Be Your Lover

Prince - I Wanna Be Your Lover (Official Music Video)

This was Prince's first hit in the US, and was written after Warner Bros requested a follow-up to his debut album For You, which had underperformed commercially.

It details Prince's love for a woman and how he would treat her better than the men she is with, and the frustration that she thinks of him as "a child".

It was later revealed that the song concerned a crush Prince had at the time on pianist and singer Patrice Rushen.

1999

Prince - 1999 (Official Music Video)

The ultimate party song, this song had a new resurgence in the year 1999 for... obvious reasons.

Written in 1982 during the height of the Cold War, the song actually had a much deeper meaning, as Prince addressed fears of a nuclear Armageddon.

Diamonds and Pearls

Prince & The New Power Generation - Diamonds And Pearls (Official Music Video)

Featuring the vocals of New Power Generation member Rosie Gaines, this ballad is an expression of love and not lust, as is the theme on most of the other singles from the album of the same name.

Dancers Lori Werner and Robia LaMorte, known as 'Diamond' and 'Pearl' respectively, appeared on the album's holographic cover.

Sign 'o' the Times

Prince - Sign O' The Times (Official Music Video)

The title track from Prince's ninth album was noticeably more downcast, both melodically and lyrically, than any of his previous singles, addressing various socio-political problems including AIDS, gang violence, natural disasters, poverty, drug abuse, the Space Shuttle Challenger disaster and impending nuclear holocaust.

Its video is considered one of the earliest forms of the lyric video. Prince performs the entire track except for backing vocals by then-girlfriend Susannah Melvoin, sister of Wendy, then a guitarist in The Revolution.

Let's Go Crazy

Prince - Let's Go Crazy (Official Music Video)

This is the pulsating opening track to Prince's Purple Rain LP, and the song is thought to be a call to follow Christian ethics, with the 'De-elevator' in the lyrics acting as a metaphor for the Devil.

In the song, Prince takes the persona of a preacher and is joined by a church organ as he gives a sermon, reminding us that we should enjoy this life, knowing that we can look forward to a world of never-ending happiness when we die.

After his death, Bruno Mars performed this in tribute dressed in full Prince regalia at the 2017 Grammys.

Kiss

Prince - Kiss (Official Music Video)

A number one hit around the world, this was taken from Prince's 1985 album Parade. Amazingly, Warner Bros didn't want it to be a single at the time.

Tom Jones later scored a comeback with a cover version in 1988 as a collaboration with the Art of Noise.

When Doves Cry

Prince - When Doves Cry (Official Music Video)

The lead single from Purple Rain, this song came about when Prince was asked by the director of the movie to write a song to match the theme of various parental difficulties and a love affair.

The next morning, Prince had composed two songs, one of which was 'When Doves Cry'.

The song was said to be inspired by Prince's relationship with Vanity 6 member Susan Moonsie.

The Most Beautiful Girl in the World

Prince - The Most Beautiful Girl In the World (Official Video)

This was Prince's first release since changing his stage name to an unpronounceable symbol, and became his only chart-topping single in the UK.

The single version featured on his next album The Gold Experience is a different mix of the song.

Although most of the song is sung in falsetto with Prince reaching some extremely high notes, the bridge has him using his regular voice as well as a lower baritone range in parts.

Purple Rain

Prince - Purple Rain (Official Video)

'Purple Rain' was originally written as a country song, and was intended to be a collaboration with Fleetwood Mac singer Stevie Nicks.

Prince explained the meaning of 'Purple Rain' as: "When there's blood in the sky – red and blue = purple... purple rain pertains to the end of the world and being with the one you love and letting your faith/god guide you through the purple rain."

The song became something of a signature song for Prince, and he famously performed it in the rain during his Super Bowl halftime show.