The Story of... 'Nothing Compares 2 U' by Sinead O'Connor
28 January 2020, 14:31 | Updated: 28 January 2020, 14:41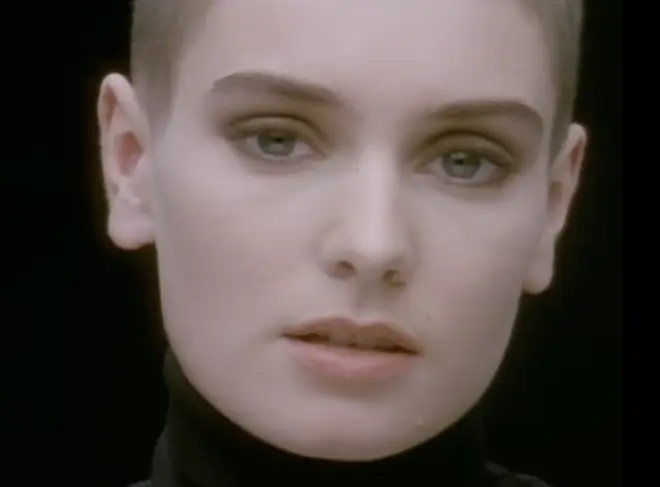 It was one of the biggest ballads of the 1990s, helped by an iconic music video and a powerful vocal performance.
Sinead O'Connor's version of a Prince song topped the charts around the world and remains of the greatest power ballads, but what inspired it and how did Sinead come to record it?
Here's all the interesting facts about Sinead O'Connor's classic hit to mark its 30th anniversary:
Who wrote 'Nothing Compares 2 U'?

The Family - Nothing Compares 2 U

Pop legend Prince wrote the song. In 1985, funk band The Family was created as an outlet to release Prince's music, and a version of the song appeared on their only album, also called The Family.

Prince later released a live duet version with Rosie Gaines in 1993, but his original 1984 recording was not released until 2018, when it was issued as a single by Warner Bros.

Prince - Nothing Compares 2 U (Official Music Video)

Why did Sinead O'Connor cover the song?

It was Sinéad O'Connor's manager, Fachtna O'Kelly, who came up with the idea for Irish star O'Connor to cover the song.

Chris Hill, co-director of O'Connor's label Ensign, told Mojo in 2009: "Fachtna O'Kelly, Sinéad's manager, brought in a cassette and when I heard it I actually started crying.

"I just sat there with tears in my eyes. Then O'Kelly rang up Sinead O'Connor and went, 'Chris is crying.' 'Was it that bad?' Sinéad asked."

What is the song about?

Like many Prince songs, the star never fully clarified if there was any particular inspiration behind the song.

O'Connor later said of the song: "I think I'm probably similar to millions of people who loved the song, and we're all people who associated the song with a loss of some kind."

While many assume that the song about a lost lover, others have said that it was actually inspired by Prince's housekeeper, Sandy Scipioni, who left him to be with her family after her father died.

Prince's recording engineer Susan Rogers, later said: "Sandy was the person who made sure he had his favorite beverage, which was Five Alive, and she made sure the house was clean and that there were fresh flowers on the piano and that the socks and underwear were washed. That might have been the inspiration."

Who directed the music video?

Sinéad O'Connor - Nothing Compares 2U [Official Music Video]

Its famous music video was directed by John Maybury, who also directed the video for 'West End Girls' by Pet Shop Boys, and also directed the movies The Jacket and The Edge of Love.

The video features mostly a closeup on Sinéad O'Connor's face as she sings through feelings of sadness and anger while singing the lyrics.

The other segments see her walking through the Parc de Saint-Cloud in Paris. By the end of the video, two tears are seen rolling down her face, one on each cheek.

O'Connor later said that the tears were real. She didn't expect to cry, but then thought, "I should let this happen."

She explained that the tears came after thinking about her mother, who died in a car accident in 1985.

How did it perform in the charts?

The song was a worldwide hit, topping charts in Ireland, Australia, Austria, Canada, Germany, Mexico, Netherlands, New Zealand, Norway, Sweden, Switzerland, the United Kingdom, and the United States. It was also a top five single in France.

In the US, it spent four weeks at number one, and was the third best-selling single of 1990.

It was certified platinum by the Recording Industry Association of America in April 1990.

Did Prince ever meet Sinead O'Connor?

Sinead O'Connor in 1990. Picture: Getty

Yes, but it didn't go well according to Sinead.

Speaking about her relationship with Prince with Norwegian station NRK in November 2014, O'Connor claimed: "I did meet [Prince] a couple of times. We didn't get on at all. In fact, we had a punch-up.

"He summoned me to his house after 'Nothing Compares 2 U'. I made it without him. I'd never met him. He summoned me to his house—and it's foolish to do this to an Irish woman—he said he didn't like me saying bad words in interviews.

|So I told him to f**k off. He got quite violent. I had to escape out of his house at five in the morning. He packed a bigger punch than mine."

Who else has covered it?

Chris Cornell - "Nothing Compares 2 U" (Prince Cover) [Live @ SiriusXM] | Lithium

Chris Cornell released a cover version in 2016, shortly after his hero Prince passed away.

Madonna performed it at the 2016 Billboard Music Awards, and it was also covered by Aretha Franklin in 2014.