Inside the infamous Sinead O'Connor SNL performance that derailed and defined her career
27 July 2023, 12:45 | Updated: 27 July 2023, 17:36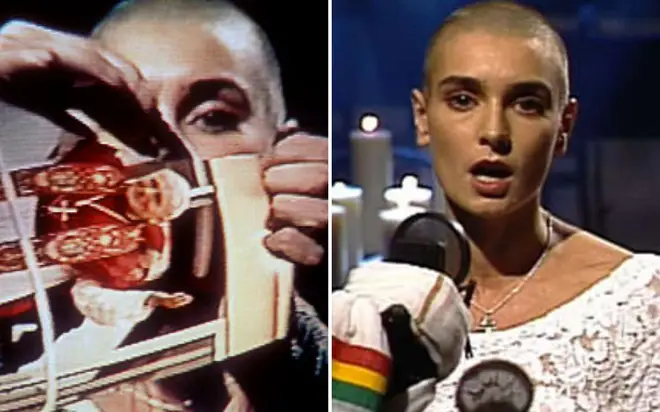 Sinead O'Connor was brave, outspoken, and unforgettable.
Having steadily built up a career in music with her acclaimed debut solo album The Lion and The Cobra in 1987, in the next few years she'd become a global sensation.
In 1990 she released her follow-up album, I Do Not Want What I Haven't Got, which would become her greatest commercial success with the help of its lead single.
'Nothing Compares 2 U' instantly became a phenomenon - the Prince-written ballad was gorgeously performed by Sinead whose striking appearance made her an immediate pop icon.
Seeing a woman with a shaven head, especially when coupled with her innocent beauty, was certainly unusual at the time. But her hairstyle was indicative of Sinead's rebellious, bold approach to life and her music.
The ballad topped charts around the world, and the accompanying music video - which focused on Sinead's lone face - became one of the most iconic moments of the subsequent decade.
Even after 'Nothing Compares 2 U' filled the airwaves, Sinead remained as outspoken and vital as she ever did.
Though, her staunch beliefs and her need to uphold them got her in extremely hot water a couple of years later after a performance that would both derail and define her pop career.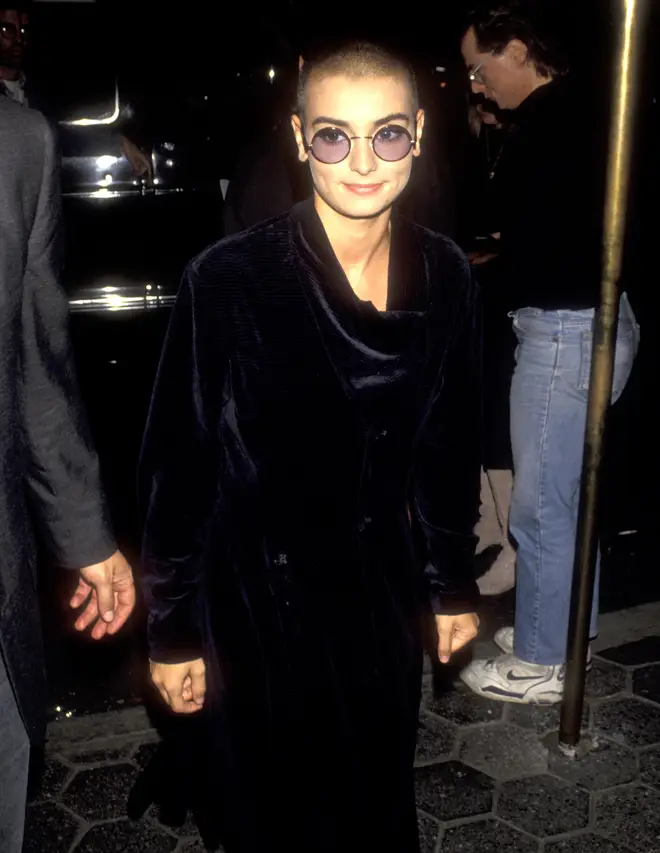 On 3rd October 1992, Sinead O'Connor became the centre of a media storm and public outrage concerning both religion and pop music, not seen since John Lennon claimed The Beatles were "bigger than Jesus".
Appearing on Saturday Night Live to promote her recent album Am I Not Your Girl?, she intended to use her performance to bring attention to the issue of child abuse.
Sinead asked during her a-cappella performance of 'Scarlet Ribbons' that the final shot asked to be a close-up on her face where she'd hold up a picture of a starving child.
The producers agreed that it was an important statement to make, and according to the SNL oral history, Live From New York, everyone working on the show was moved by her plea during the dress rehearsal.
But after her first performance on the night of 'Success Has Made A Failure Of Our Home', she requested some last-minute changes to her next song, instead telling producers she'd be singing a cover of Bob Marley's 'War' next.
After singing the song's final message of "And we know we shall win, As we are confident in the victory, Of good over evil," Sinead stared directly into the camera, raised a photo of Pope John Paul II and tore it to pieces.
"Fight the enemy" she then said as she threw the tattered photograph behind her, before blowing out the candles which accompanied her performance.
Fight the REAL Enemy! Bob:Marley's 'War' performed by Sinéad o'Connor!
Everything went silent. Where there was usually applause, the audience and crew members were left shell-shocked. "The air went out the studio," said an SNL producer.
Sinead recalled in her 2021 memoir Rememberings that everyone disappeared almost immediately, leaving her totally alone.
"When I walk backstage, literally not a human being is in sight. All doors have closed. Everyone has vanished. Including my own manager, who locks himself in his room for three days and unplugs his phone."
NBC's switchboards blew up with calls from outraged viewers, having seen the head of the Catholic Church insulted in such a manner.
During the show however, Sinead performed once more whilst SNL's switchboards were melting from furious phone calls, and producer Lorne Michaels even invited her back on to wave goodbye to the catatonic studio audience.
Michaels later said that Sinead's protest was "the bravest thing she could possibly do", having understood her personal history with child abuse and how the Catholic Church continually covered up such crimes within its clergy.
But the majority of other people weren't quite as sympathetic, especially actor Joe Pesci who appeared on SNL the week later and threatened to give Sinead "such a smack" if he'd been on the same episode.
Joe Pesci Monologue - Saturday Night Live
After the incident, Sinead's mainstream popularity never quite reached the same heights, as she was seen as a poisoned chalice by the music industry and beyond.
She faced death threats because of her performance, was pelted with eggs in the street, had numerous gigs cancelled, and a protest in New York's Times Square took place where a bulldozer crushed a pile of her records.
In the weeks after her SNL stunt, Sinead was invited to perform at Madison Square Garden for Bob Dylan's 30th year in music.
She decided not to perform a Dylan cover and doubled down on her stance on the Catholic Church by performing 'War' once more, which incited boos and rage from the audience.
Sinead O'Connor: 'War' live at the Bob Dylan Tribute.
Even in the throes of public outrage where her pop career hung by a thread, Sinead stood up for what she believed in, for better or worse.
She reflected on her SNL performance in 2021, and refused to agree that the incident derailed her career in music.
"It was not derailing. People say 'Oh you f***ed up your career', but they're talking about the career they had in mind for me."
"I f***ed up the house in Antigua that the record company dudes wanted to buy. I f***ed up their career, not mine."
Her plea against the Catholic Church went largely ignored for another decade, but Sinead wasn't afraid to speak her mind and have the courage of her convictions.
In a life and career that was blighted by controversy, personal troubles, and unimaginable loss, it was Sinead's fearlessness and fragility that would ultimately define the impact she made.