Bob Marley facts: Music icon's wife, children, parents and death explained
20 July 2023, 10:15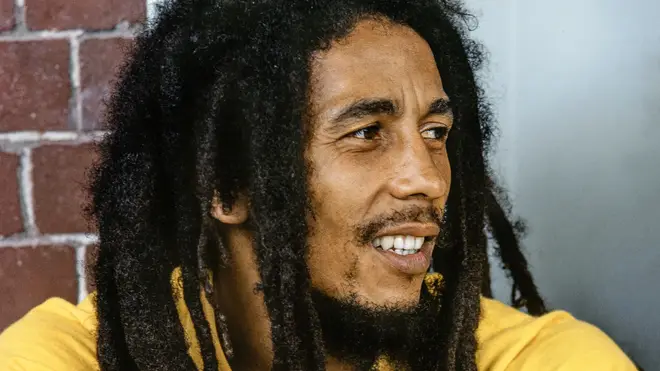 Bob Marley was one of the greatest singers and music icons of all time.
The Jamaican musician is still considered one of the pioneers of reggae, who helped bring the styles of reggae, ska and rocksteady to the mainstream around the world.
Bob Marley helped increase the visibility of Jamaican music worldwide, and became a global icon of popular culture.
He sold over 75 million records worldwide, and his music continues and beliefs to inspire many people to this day.
When was Bob Marley born and who were his parents?

Bob Marley & The Wailers - Jamming (Official Music Video)

Bob Marley was born on February 6, 1945, on the farm of his maternal grandfather in Nine Mile, Jamaica, to Norval Sinclair Marley (1885–1955) and Cedella Booker (1926–2008).

Norval was a white Jamaican originally from Sussex, England. Bob Marley's full name is Robert Nesta Marley.

In 1955, when Bob was 10, his father died of a heart attack at the age of 70. His mother went on to marry Edward Booker, an American civil servant, giving Bob two American brothers.

How did he get his start in music?

Bob Marley and Neville Livingston (later Bunny Wailer) had been childhood friends in Nine Mile.

They had started to play music together while at Stepney Primary and Junior High School.

Soon after, he was in a vocal group with Wailer, Peter Tosh, Beverley Kelso and Junior Braithwaite. Singer Joe Higgs took Marley under his wing, teaching him how to play the guitar.

Who was Bob Marley's wife and how many children did he have?

Bob Marley's wife Rita in 2005. Picture: Getty

Bob Marley married Alpharita Constantia 'Rita' Anderson in Kingston, Jamaica, on February 10, 1966.

Marley had many children: four with wife Rita, two adopted from Rita's previous relationships, and several others with different women.

His official website acknowledges 11 children.

His most famous children include singer Ziggy Marley (pictured, who recorded the theme tune to kids' TV show 'Arthur'), musician Stephen Marley, footballer Rohan Marley, singer Julian Marley and reggae artist Damian Marley.

Left to right: Sons Ky-mani, Julian, Ziggy, Damian and Stephen Marley. Picture: Getty

His children are:

Sharon, born 1964, daughter of Rita from a previous relationship but then adopted by Marley
Cedella, born 1967, to Rita
David 'Ziggy', born 1968, to Rita
Stephen, born 1972, to Rita
Robert 'Robbie', born 1972, to Pat Williams
Rohan, born 1972, to Janet Hunt
Karen, born 1973 to Janet Bowen
Stephanie, born 1974; according to Cedella Booker, she was the daughter of Rita and a man called Ital, but was acknowledged as Bob's daughter
Julian, born 1975, to Lucy Pounder
Ky-Mani, born 1976, to Anita Belnavis
Damian, born 1978, to Cindy Breakspeare

When and how did Bob Marley die?

Bob Marley in 1975. Picture: Getty

In July 1977, Marley was diagnosed with a malignant melanoma under the nail of a toe.

Marley turned down his doctors' advice to have his toe amputated due to his religious beliefs, and the nail and nail bed were removed and a skin graft taken from his thigh as a cover.

In 1980, the cancer had spread throughout his body. While he was flying from Germany to Jamaica, his condition worsened. After landing in Miami, he died on May 11, 1981, at the age of 36.

Was Bob Marley shot?

On December 3, 1976, two days before a free concert organised by Jamaican Prime Minister Michael Manley to ease tension between two fighting political groups, Marley, his wife, and manager Don Taylor were wounded by unknown gunmen inside Marley's home.

Taylor and Marley's wife had serious injuries, but made full recoveries. Bob Marley received minor wounds in the chest and arm. The attempt on his life was thought to have been political, as many felt the concert was supporting Manley.

What was Bob Marley's religion?

Bob Marley was a member of the Rastafari movement, whose culture was a key element in the growth of reggae.

He became a proponent of Rastafari, taking its music out of the socially deprived areas of Jamaica, and onto an international audience.

Archbishop Abuna Yesehaq baptised Marley into the Ethiopian Orthodox Church, giving him the name Berhane Selassie, on November 4, 1980, soon before his death.