Bob Marley's 15 greatest ever songs, ranked
11 May 2021, 17:19 | Updated: 20 July 2023, 10:12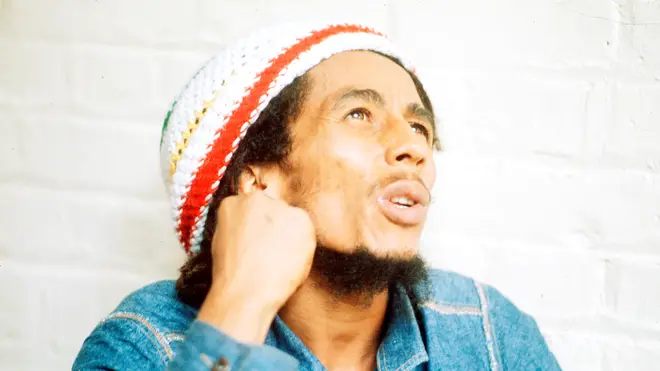 He's one of the most legendary artists of all time, and helped bring reggae music to the mainstream.
His inspiring music lives on nearly 40 years after his death, and these are just a handful of his very best for a perfect Bob Marley and The Wailers playlist.
Turn Your Lights Down Low

Turn Your Lights Down Low (1977) - Bob Marley & The Wailers

This was the only song on side B of Exodus to not be released as a single.

However, it was later re-released as an updated duet with the Fugees' Lauryn Hill, becoming an international hit single in 1999.

'Stir It Up'

stir it up bob marley legend

First recorded back in 1967, this was one of Bob Marley and The Wailers' first hits outside America.

It wasn't a proper hit until 1972, when Johnny Nash released a cover version.

'Get Up Stand Up'

Bob Marley - Get up, stand up 1980

Marley wrote this song with Peter Tosh while touring Haiti, after being deeply moved by its poverty and the lives of Haitians.

The song was often performed at Marley's concerts, and was usually the last song of the night. It was also the last song Marley ever performed on stage, on September 23, 1980 in Pittsburgh, Pennsylvania.

'Sun is Shining'

Although this eventually became one of the most popular Marley songs, it was actually a fairly unknown track during his lifetime. Only two live performances are even documented.

The song found a new lease of life when it was sampled by Funkstar Deluxe in a successful dance track in 1999.

'I Shot the Sheriff'

I shot the sheriff - BOB MARLEY - CONCERT -SANTA BARBARA 1979

The story of this song is told from the point of view of a man who admits to having killed the corrupt local sheriff, but was falsely accused of having killed the deputy sheriff.

It was later a big hit for Eric Clapton, after he took on a soft rock/reggae hybrid for his version.

Satisfy My Soul

Bob Marley & The Wailers - Satisfy My Soul

This track featured on Marley's 1978 album Kaya.

Marley and the Wailers received criticism at the time for "going soft" due to the album's laid-back nature, including songs abound love and marijuana. However, over time it is considered one of their best.

'Waiting in Vain'

Bob Marley & The Wailers- Waiting in vain

This song featured on Marley's Exodus album in 1977, and was a mild hit in the UK at the time.

Annie Lennox later reached the top 40 with a cover version in 1995.

'One Love/People Get Ready'

One Love Bob Marley official video (HD)

Originally recorded as a ska song in 1965, it was later reworked and became one of Bob Marley's biggest hits in the 1970s.

The song contains elements of The Impressions' song 'People Get Ready' written by Curtis Mayfield. The original version didn't credit Mayfield's song and was simply titled 'One Love', as copyright law was not enforced in Jamaica at the time. When the more famous version was released in 1977, it was retitled and credited Mayfield.

'Redemption Song'

Bob Marley & The Wailers - Redemption Song

One of Bob Marley's most inspiring and popular songs, its lyrics derived from a speech by the Pan-Africanist speaker Marcus Garvey called 'The Work That Has Been Done'.

When he wrote it, Bob Marley had been diagnosed with cancer. According to Rita Marley: "he was already secretly in a lot of pain and dealt with his own mortality, a feature that is clearly apparent in the album, particularly in this song".

'Buffalo Soldier'

Bob Marley & The Wailers - Buffalo Soldier

This classic Marley track did not appear on a record until the 1983 posthumous release of Confrontation.

The title and lyrics refer to the black US cavalry regiments, known as 'Buffalo Soldiers', who fought in the Indian Wars after 1866. Marley compared their fight to a general fight for survival.

'Jamming'

Bob marley - Jammin' live

This celebration song contains the line, "No bullet can stop us now". On December 3, 1976, Marley was shot by unknown gunmen who had broken into his home, but he soon recovered.

Stevie Wonder later released the song 'Master Blaster (Jammin')' as a tribute to Marley and this song in particular.

'Could You Be Loved'

Could you be loved - Bob Marley (original video)

Released on their last album Uprising in 1980, this song was written in 1979 on an aeroplane while The Wailers were experimenting on guitar.

It gave The Wailers another top 5 hit in the UK, and it was later covered by Joe Cocker among others.

'Is This Love?'

Bob Marley - is this love official video HD

Taken from 1978's Kaya, this track became one of Bob Marley's biggest hits.

Its music video was shot at the Keskidee Arts Centre in London and features a seven-year-old Naomi Campbell in her first public appearance.

'No Woman, No Cry'

Bob marley "no woman no cry" 1979

The best known version of this classic track is actually a live recording, from the Lyceum Theatre in London on July 17, 1975.

Though Bob Marley may have written the song, songwriter credits were also given to Vincent Ford, a friend of Marley's who ran a soup kitchen in Trenchtown, the ghetto of Kingston, Jamaica where Marley grew up. The royalty payments given to Ford thus ensured he could continue working.

'Three Little Birds'

Bob Marley - Three little birds(Video Oficial)(HQ)

This feel good song is often thought to be named 'Don't Worry About a Thing' or 'Every Little Thing is Gonna Be Alright', due to its repeated lyrics in the chorus, but nope!

The inspiration behind Marley's the song remains disputed. They are partly inspired by actual birds that Marley was fond of, that used to sit next to his home. Also, three female singers from the reggae group I Threes who performed alongside Marley have claimed it was a reference to them.