Wham!'s 10 greatest songs ever, ranked
30 March 2023, 11:10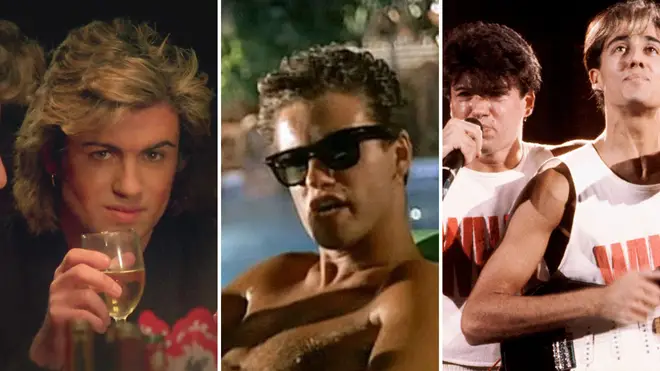 Before George Michael became a worldwide success as a solo artist, he burst onto the scene as part of Wham! with his longtime pal Andrew Ridgeley.
In just a few years, Wham! became one of the world's most popular groups, selling over 30 million records.
Their songs have stood the test of time, and we never tire of playing their classic hits.
Here are their very best in an ultimate playlist (though, we're not including 'Careless Whisper' - despite being credited to Wham! at the time in the States, it's actually a George Michael solo classic):
Wham Rap

Wham! - Wham Rap! (Enjoy What You Do?) (Official Video)

Wham!'s debut song couldn't have been further from what would become George Michael's soulful and sophisticated pop less than 10 years later.

While it may have dated rather badly since then, this was the song that put George and Andrew on the map.

The song came about when Andrew was making up his own words while dancing to 'Rapper's Delight' in Bogart's nightclub in South Harrow.

Bad Boys

Wham! - Bad Boys (Official Video)

Written and produced by 19-year-old George in 1983, this song was about a rebellious teenage guy's struggle against his parents, who are worried about his late-night activities.

Although George wrote and sang it from the teenager's perspective, he also wrote a middle eight in which the "parents" aired their frustrations.

Young Guns (Go For It)

Wham! - Young Guns (Go for It!) (Live from Top of the Pops 1982)

This was Wham!'s first hit single, and was helped by a last minute appearance on Top of the Pops after another act pulled out.

George wrote the song about a teenage guy's worry that his best friend was getting too committed to a girl, when he should have been enjoying his youth.

The Edge of Heaven

Wham! - The Edge of Heaven (Official Video)

When George Michael wanted to move into a more adult market, Wham! had announced in early 1986 that he and Andrew would go their separate ways after a farewell single, album and concert.

The single was this five-minute story about an emotional and physical frustration in a relationship, and featured a guest appearance by friend Elton John on piano.

It was Wham!'s fourth number one in the UK, and their final US hit.

Freedom

Wham! - Freedom (Official Video)

Another UK number one, this song was unusually released in mono sound.

The melody of the song was used by George as the intro to his classic track 'Faith', played on a church organ.

I'm Your Man

Wham! - I'm Your Man (Official Video)

This track gave Wham! their third number one single in the UK, and was written and produced by George. Within six months of its release, Wham! had broken up.

Actor Shane Richie scored his own hit with the song in 2003.

Everything She Wants

Wham! - Everything She Wants (Official Video)

Originally released as a double A-side with 'Last Christmas' in 1984, this song was also a number one hit in the States.

It was written and produced by George Michael, it tells the story of a man who is disillusioned by the demands of his partner, despite the amount of work he does to keep her happy.

In later years, George said it was his favourite Wham! song.

Club Tropicana

Wham! - Club Tropicana (Official Video)

Written by both George and Andrew, this song was something of a departure from their previous singles, which had all been influenced by social or political issues.

This song was a satire of the cheap package holiday boom of the early 1980s, and was a swipe at the Club 18-30 scheme of the time.

Wake Me Up Before You Go-Go

Wham! - Wake Me Up Before You Go-Go (Official Video)

This song gave Wham! their first number one in both the UK and US.

Produced and written by George, he said that inspiration for the song was a scribbled note that Andrew Ridgeley had left for his parents, intended to read "wake me up before you go" but with "up" accidentally written twice, so Andrew wrote "go" twice on purpose.

Last Christmas

Wham! - Last Christmas (Official Video)

One of the most popular Christmas pop songs of all time, this track had to settle for the Christmas number two spot in 1984, as it was also the year Band Aid released 'Do They Know It's Christmas' (which George also featured on).

It finally reached the top more than once in the 2020s, and remains a hugely successful track every Christmas.