The Story of... 'Yesterday' by The Beatles
26 June 2019, 16:02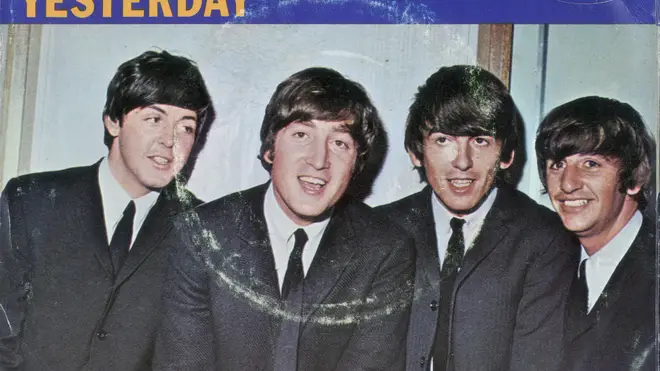 The Beatles' most popular love song is the most performed pop song of all time, and one of the group's most treasured tracks.
Now the title of a new romcom about a man who discovers he's the only person who remembers the Fab Four, 'Yesterday' is a truly seminal piece of music that has stood the test of time.
But who wrote it, what inspired it and what is its legacy?
Here are all the fascinating facts behind 'Yesterday':
Who wrote 'Yesterday'?

Paul McCartney And Jane Asher. Picture: Getty

Not Yesterday's Jack Malik, that's for sure.

Like all Beatles songs at the time, the song is credited to Lennon-McCartney.

However, the song was written by Sir Paul McCartney.

Paul McCartney wrote it in a dream (but thought he stole it)

McCartney is said to have composed the entire melody in a dream while staying at the Wimpole Street home of his then girlfriend Jane Asher.

When he woke up, he quickly ran to a piano and played the tune to make sure he didn't forget it.

However, he was worried that he had subconsciously plagiarised another song. He said: "For about a month I went round to people in the music business and asked them whether they had ever heard it before.

"Eventually it became like handing something in to the police. I thought if no one claimed it after a few weeks then I could have it."

It was originally called 'Scrambled Eggs'

Like with all songs Lennon and McCartney wrote at the time, a substitute lyric, titled 'Scrambled Eggs' was used until he came up with something better.

The working opening verse was "Scrambled eggs/Oh my baby how I love your legs/Not as much as I love scrambled eggs".

When was the song written?

McCartney claimed he had written 'Yesterday' during the Beatles' tour of France in 1964, but it was not released until the summer of 1965.

In that time, the Beatles released two albums: A Hard Day's Night and Beatles for Sale. The delay may have been down to a disagreement between McCartney and producer George Martin over the song's arrangement.

Lennon later said: "Paul wrote nearly all of it, but we just couldn't find the right title. We called it 'Scrambled Eggs' and it became a joke between us. We made up our minds that only a one-word title would suit, we just couldn't find the right one.

"Then one morning Paul woke up and the song and the title were both there, completed. I was sorry in a way, we'd had so many laughs about it."

McCartney said his breakthrough came during a trip to Portugal in May 1965: "I remember mulling over the tune 'Yesterday', and suddenly getting these little one-word openings to the verse.

"I started to develop the idea ... da-da da, yes-ter-day, sud-den-ly, fun-il-ly, mer-il-ly and Yes-ter-day, that's good. All my troubles seemed so far away. It's easy to rhyme those a's: say, nay, today, away, play, stay, there's a lot of rhymes and those fall in quite easily, so I gradually pieced it together from that journey.

"Sud-den-ly, and 'b' again, another easy rhyme: e, me, tree, flea, we, and I had the basis of it."

McCartney was 22 when he wrote the song.

Only Paul appears on the song

There are different accounts of how the song was recorded, with many biographers stating that McCartney recorded the song by himself, without involving the other band members.

Others claim that McCartney and the other Beatles tried different instruments, such as drums and an organ, and that George Martin later persuaded them to have McCartney play his Epiphone Texan steel-string acoustic guitar, and overdubbing a string quartet on top.

Either way, none of the other Beatles were included in the final recording.

It was rejected by another artist

Chris Farlowe. Picture: Getty

Lennon and McCartney would often give their compositions for other artists to record and score hits with, such as Peter and Gordon's 'A World Without Love'.

Amazingly, 'Yesterday' was actually offered first to singer Chris Farlowe before The Beatles recorded it.

However, he turned it down as he considered it "too soft" for him.

It wasn't released as a single

George Martin said: "['Yesterday'] wasn't really a Beatles record and I discussed this with Brian Epstein: 'You know this is Paul's song ... shall we call it Paul McCartney?' He said 'No, whatever we do we are not splitting up the Beatles.'"

As 'Yesterday' wasn't the Beatles' previous output, and didn't fit in with their image, the Beatles chose not to release it as a single in the UK.

However, singer Matt Monro recorded the first of many cover versions, reaching the UK top ten soon after its release in autumn 1965.

In the States, it was released as a single alongside 'Act Naturally' in September 1965, topping the charts for four weeks.

In 1976, the song was finally released as a single in the UK, reaching number eight. This was due to the expiration of the Beatles' contract with EMI, allowing the company to repackage the Beatles' recordings.

Who has covered it?

It is known as the most covered song in history, with over 3,000 versions out there to date.

Just some covers include: Boyz II Men, Ray Charles, En Vogue, Marianne Faithfull, Marvin Gaye, Tom Jones, Nana Mouskouri, Elvis Presley, Frank Sinatra, The Supremes, The Toys, Andy Williams, and Tammy Wynette.

And who can forget Mr Bean himself (see above).