The Story of... 'Karma Chameleon' by Culture Club
16 March 2020, 17:21 | Updated: 29 October 2020, 16:27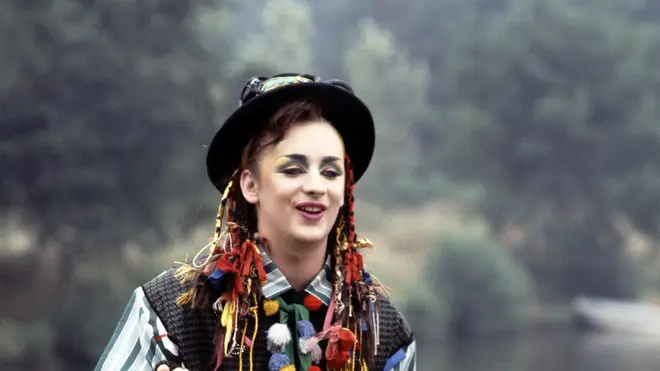 Boy George became one of the most iconic popstars of his generation when Culture Club burst onto the scene in the early '80s.
Their song 'Karma Chameleon' was a huge hit around the world, and Boy George's androgynous appearance and soulful voice inspired many artists, and helped further the New Romantic movement.
But what was their number one song actually about? Here's all the fascinating facts:
Who wrote 'Karma Chameleon'?

Culture Club. Picture: Getty

The song was written by Culture Club members Boy George, Jon Moss, Mikey Craig, Roy Hay and Phil Pickett.

It was recorded for the group's second album Colour by Numbers, released in 1983.

What is the meaning behind 'Karma Chameleon'?

Boy George once explained about the song: "The song is about the terrible fear of alienation that people have, the fear of standing up for one thing.

"It's about trying to suck up to everybody. Basically, if you aren't true, if you don't act like you feel, then you get Karma-justice, that's nature's way of paying you back."

Boy George wrote most of the band's lyrics, and many of his words were inspired by his relationship with the group's drummer, Jon Moss.

Their difficult romantic/professional relationship was also the inspiration for the line: "You're my lover, not my rival" in 'Karma Chameleon'.

The relationship was hidden to the public, so it became an outlet for Boy George to communicate with him through their songs.

It was alleged to have plagiarised another song

In response to claims from singer-songwriter Jimmy Jones that the song copies his hit 'Handy Man', George said: "I might have heard it once, but it certainly wasn't something I sat down and said, 'Yeah, I want to copy this.'"

Culture Club members weren't big fans at first

Speaking to 60 Minutes Australia, Boy George revealed he wrote the song while he was on holiday in Egypt.

The other members of Culture Club weren't too pleased about recording it at first, as they felt it sounded like a country and western song.

Who played the harmonica part?

The harmonica was played by Judd Lander, who was also a member of Merseybeat group The Hideaways in the 1960s.

Lander also provided the harmonica on Culture Club's 'Church of the Poisoned Mind' and 'Say You'll Be There' by Spice Girls.

Where was the music video filmed?

Culture Club - Karma Chameleon (Official Video)

Directed by Peter Sinclair, the video filmed at Desborough Island in Weybridge during the summer of 1983.

The video is set in Mississippi in 1870, and shows a large multiracial group of people in late 1800s outfits, including some dressed in red, gold, and green (as referenced in the song's lyrics).

Boy George is dressed in his signature look of colourful costumes, fingerless gloves, long braids, and a black bowler hat.

The video shows a pickpocket and jewellery thief stealing from victims. The band and others board a riverboat, called The Chameleon.

While four men are playing poker, the thief is discovered cheating and is forced to walk the plank.

How did it perform in the charts?

In the UK, it was their second number one after 'Do You Really Want to Hurt Me', staying at the top for six weeks and becoming the UK's biggest-selling single of 1983.

It is still one of the best-selling songs of all time, selling 1.52 million copies in the UK alone, and over 5 million globally.