The Story of... 'We'll Meet Again': Vera Lynn's WWII song referenced by The Queen
18 June 2020, 10:49 | Updated: 18 June 2020, 10:51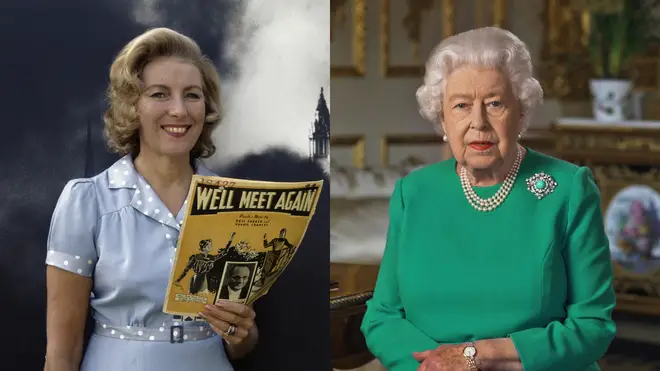 Dame Vera Lynn's iconic wartime ballad 'We'll Meet Again' has found new resonance in 2020, following The Queen's speech at the height of the coronavirus pandemic.
Earlier this year, Her Majesty The Queen expressed her gratitude for the efforts of the NHS and others to stop the spread of the COVID-19 virus, and spoke of the challenges being faced by families across the world.
At the end of the speech, she said: "We will be with our friends again, we will be with our families again, we will meet again."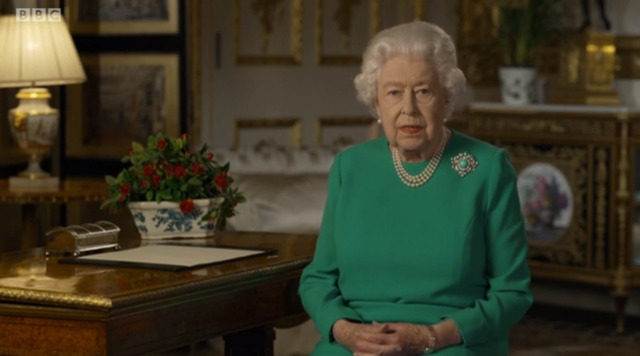 The Queen Addresses The Nation Over Coronavirus
But who wrote the song and what did it mean at the time?
Following the passing of Dame Vera Lynn at the age of 103, here are all the big facts about her most famous song:
Who wrote 'We'll Meet Again'?

Parker And Charles (at the piano). Picture: Getty

The song was written by English songwriters Ross Parker and Hughie Charles in 1939.

The pair also wrote 'There'll Always Be an England', but 'We'll Meet Again' proved to be their biggest success.

Parker continued to write and perform until his death at the age of 59 in 1974. He also appeared as a chef in Chitty Chitty Bang Bang.

What was the song's meaning?

The song is one of the most famous of the Second World War era.

Written at the beginning of the war, it resonated with soldiers going off to fight, as well as their families and sweethearts back home.

When did Vera Lynn sing it?

Vera Lynn - We'll Meet Again (1943)

The most popular version was recorded three years later in 1942 by 'The Forces Sweetheart', Vera Lynn.

Lynn's morale-building ballads, concerts and British tours overseas made her the most popular British singer during WWII.

Her recording of this song perfectly captured the mood of the British nation at the time, as the UK took on its battle for survival during the Blitz and beyond.

Lynn later recalled in 2009 to Saga Magazine: "I always tried to choose cheerful songs, that soldiers missing their wives and sweethearts could relate to.

"We weren't psychologists, but we understood that it was important to express the right meaning, and we put a lot of effort into getting the songs right."

Vera Lynn topped the charts at 92 years old

As it was recorded 10 years before the start of the UK Singles Chart, it was technically a 'hit', despite being a huge radio and sheet music success.

However, in 2009, Dame Vera Lynn reached the top of the UK album charts with We'll Meet Again - The Very Best of Vera Lynn, a compilation to coincide with the 70-year anniversary of the declaration of World War II.

This meant that the 92-year-old was the oldest living artist to make it to number one in UK chart history.

It became a musical and is a movie classic

We'll Meet Again - Dr Strangelove: Final Scene

The song gave its name to the 1943 musical film We'll Meet Again, in which Dame Vera Lynn played the lead role.

Lynn's recording is also featured in the final scene of Stanley Kubrick's classic 1964 film Dr Strangelove. The song ironically plays while a nuclear holocaust wipes out humanity.

It was also used in the closing scenes of the 1986 TV drama The Singing Detective.

Who else has covered it?

Johnny Cash - We'll Meet Again

MANY artists have performed the song over the years, including:

- Peggy Lee

- The Ink Spots

- The Byrds

- Rod Stewart

- Barry Manilow

- Johnny Cash

- Katherine Jenkins

- Sheridan Smith

D-Day anniversary: Singer Sheridan Smith performs "We'll Meet Again"

What are the lyrics?

We'll meet again
Don't know where
Don't know when
But I know we'll meet again some sunny day

Keep smiling through
Just like you always do
'Till the blue skies drive the dark clouds far away

So will you please say hello
To the folks that I know
Tell them I won't be long
They'll be happy to know
That as you saw me go
I was singing this song

We'll meet again
Don't know where
Don't know when
But I know we'll meet again some sunny day

We'll meet again
Don't know where
Don't know when
But I know we'll meet again some sunny day

Keep smiling through
Just like you always do
'Til the blue skies
Drive the dark clouds far away

So will you please say hello
To the folks that I know
Tell them it won't be long
They'll be happy to know
That as you saw me go
I was singin' this song

We'll meet again
Don't know where
Don't know when
But I know we'll meet again some sunny day