Smooth's All Time Top 500: 10 fantastic songs which somehow missed the chart last year
25 April 2019, 17:43 | Updated: 26 April 2019, 09:29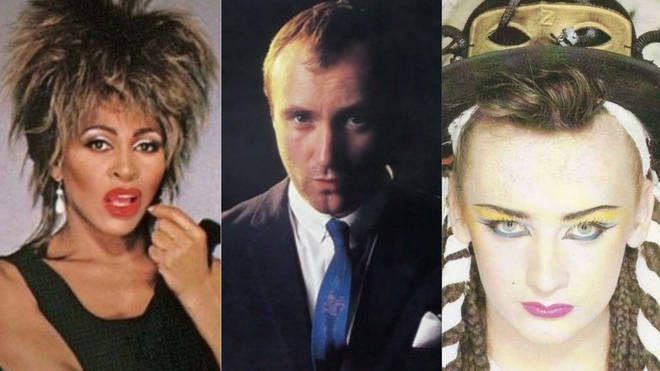 Britain's Biggest Music Countdown is nearly here for 2019!
Voting continues for this year's chart until 11.59pm on Sunday (April 28), which got us thinking about what happened last year.
Ed Sheeran came out on top with 'Perfect', ahead of 2017 winner 'Careless Whisper' by George Michael, and there were many entries for the likes of Elton John, Lionel Richie and ABBA.
But there were some absolute corkers which didn't quite get enough votes to make it to the final 500. So, in case you haven't voted yet and needed a bit of inspiration, this might help:
Phil Collins - 'You Can't Hurry Love'

Phil's cover of the Supremes '60s classic is one of his best, but it didn't quite make the list.

His highest entry was 'In the Air Tonight' at number 18. Will it be higher this year?

Tina Turner - 'What's Love Got To Do With It'

Wow.

Not only did one of Tina's greatest ever songs not make the list, but she only had one song over all - and that was 'The Best' at 374! This must be rectified.

Culture Club - 'Karma Chameleon'

It's one of the most iconic songs of the 1980s, but it wasn't enough to get in the final 500.

In fact, Boy George or Culture Club didn't have a single entry last year. Will they fare better this year?

Barry White - 'Can't Get Enough of Your Love, Babe'

You gotta love a bit of Barry, but one of his greatest songs didn't reach the final chart.

Barry's highest entry was his iconic 'You're the First, the Last, My Everything' at 202.

Steve Winwood - 'Higher Love'

This 1986 track is seriously underrated, and it sadly didn't quite make the final chart in 2018.

Maybe you could show Steve a bit of love this year, huh?

Heart - 'Alone'

We're chalking this one down to the fact that perhaps you didn't realise what this song was called. Surely, that was it?

This is one of the greatest power ballads of the '80s, if not all time, so we're hoping they might sneak in this year.

Bruce Hornsby and the Range - 'The Way It Is'

There's nothing quite like hearing that piano intro...

Bruce Hornsby's tale of the rich and poor divide is a truly underrated '80s banger, and it stops and makes you think, too.

Annie Lennox - 'Why'

A stunning ballad, this song definitely deserves more attention this year.

Amazingly, Annie only had one entry in the whole top 500 last year, and that's including both solo and Eurythmics!

Michael Bolton - 'How Am I Supposed to Live Without You'

It just feels wrong to have a Smooth All Time Top 500 countdown with not a single Michael Bolton song, but that's what happened in 2018.

Surely that can't happen again?!

Madonna in general

Considering just how many iconic songs Madonna has recorded over the years, we were somewhat flabbergasted that only three crept in last year.

Madonna's highest entry was surprisingly 'La Isla Bonita' at 322. Which is frankly outrageous.