Erasure's 10 greatest songs, ranked
13 June 2023, 15:27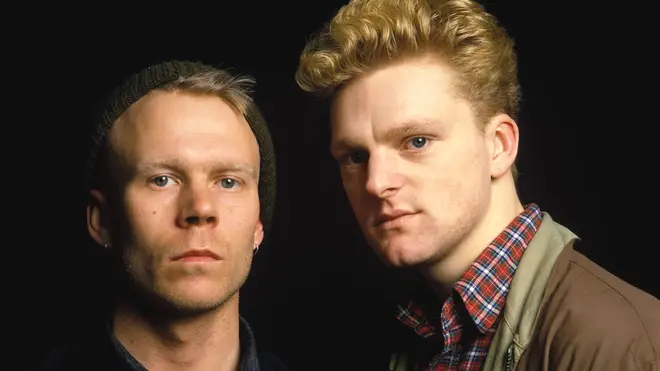 Erasure were one of the greatest bands of the 1980s and 1990s.
Known for their blend of infectious melodies, heartfelt lyrics, and captivating performances, Erasure quickly established themselves as synthpop icons when they emerged in the 1980s.
Vince Clarke had just disbanded Yazoo with Alison Moyet, having previously been the chief songwriter of Depeche Mode, and he was looking for a new project.
After teaming up with the songwriting talents of Andy Bell, the duo soon crafted a discography brimming with timeless hits that have resonated with audiences across generations.
Their music seamlessly fused electronic sounds with emotionally-charged themes, rivalling the Pet Shop Boys as the decade's greatest duo.
Here are the group's best songs for a perfect Erasure playlist:
Love to Hate You

Erasure - Love To Hate You (Official HD Video)

This track was released in 1991 as a single from their album Chorus, and deals with the complexities of a tumultuous relationship and the emotions that arise from love and conflict.

The energetic dance track used elements of Gloria Gaynor's 'I Will Survive', and it reached number four in the UK.

Blue Savannah

Erasure - Blue Savannah (Official HD Video)

This song was released in 1989 as a single from their album Wild!, and showed Erasure's sense of serene beauty and emotional introspection.

It took inspiration from the tranquility of nature, specifically referencing the picturesque landscapes of the American West. It is a metaphor for finding solace and escape in the midst of personal struggles and heartbreak.

The track peaked at number three on the UK Singles Chart, becoming one of Erasure's highest-charting singles at the time.

In My Arms

Erasure - In My Arms (Official HD Video)

Erasure showed that they could move with the times and the ever-changing styles of electronic music.

Released in 1997 for their Cowboy album, this synthpop ballad had a trip-hop sound that fitted perfectly alongside the emerging talents of Massive Attack, Portishead and others.

Oh L'Amour

Erasure - Oh L'Amour (Official HD Video)

This early track was taken from Erasure's debut album Wonderland in 1986.

A celebration of newfound love, the synthpop favourite made a lot of fans fall in love with the duo for the first time, and it reached number 13 in the UK.

Take a Chance on Me

Erasure - Take A Chance On Me (Official Video Remastered HD)

It could be argued that Erasure's tribute to ABBA was one of the reasons that helped revive the nation's love of the Swedish duo, 10 years after they had split up.

In 1992, Erasure released their ABBA-Esque EP, comprising of four ABBA cover songs.

Bringing ABBA into the Erasure sound was an inspired move, and this was arguably the best of the lot. It reached number two in the UK, celebrating the legacy of ABBA and paying homage to their iconic sound through their own artistic lens.

Stay With Me

Erasure - Stay With Me (Official HD Video)

Erasure weren't always about pulsating pop bangers. They were also able to craft some beautiful ballads with introspective lyrics, like this one.

Taken from their self-titled album in 1995, this downtempo track gave the duo another top 20 hit, and is one of their most captivating songs.

Victim of Love

Erasure - Victim Of Love (Official HD Video)

This 1987 single was taken from Erasure's album The Circus, and was a typically infectious pop gem.

The song focuses on the experience of being consumed by the intensity and complexities of relationships, often leading to a loss of control.

The track reached number seven in the UK, and cemented them as electronic heroes.

Always

Erasure - Always (Official 4k Video)

This heartfelt song was released in 1994 as a single from their album I Say I Say I Say, and spreads a message of unwavering love and devotion.

It features tender lyrics, with Andy Bell's emotive vocals creating a sense of vulnerability that perfectly shows the willingness to stand by someone through thick and thin.

It reached number four in the UK, and was one of their biggest hits of the 1990s.

Sometimes

Erasure - Sometimes (Official HD Video)

Released in 1986 as a part of their album The Circus, this track was written by Vince Clarke and brought to life by Andy Bell's incredible vocals.

The synthpop staple explores the theme of navigating the uncertainties of love and relationships, acknowledging its struggles while embracing the hope of a brighter future.

It was an instant hit, reaching number two in the UK, and helped Erasure's popularity in the States.

A Little Respect

Erasure - A Little Respect (Official HD Music Video)

Erasure's most famous hit was released in 1988 as a single from their album The Innocents, and is an enduring classic that showcases the duo's incredibly catchy melodies.

The song delves into the themes of love, acceptance, and the importance of treating others with kindness, asking people to embrace empathy and understanding in relationships.

With its memorable synthpop sound and Andy Bell's impassioned vocals, the song reached number four in the UK, and often appears in lists of the greatest songs of the '80s.

It has become an anthem for inclusivity and love, with its uplifting message continuing to resonate with audiences 40 years on.