Moby unveils new 1980s-inspired soulful track 'Should Sleep' with JP Bimeni
14 September 2023, 10:05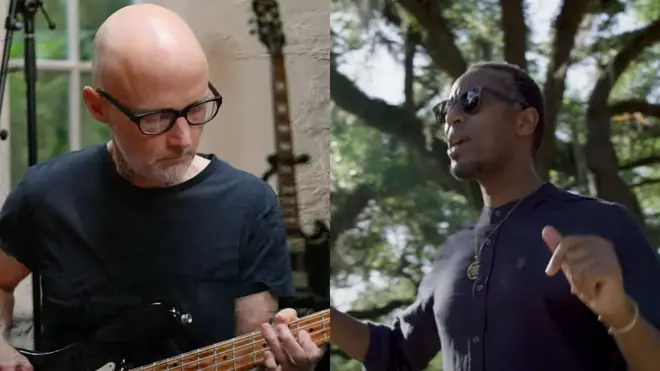 Electronic legend Moby has shared a new soulful track and video called 'Should Sleep' alongside JP Bimeni.
This release is now available worldwide through his freshly launched label, Always Centered At Night. This enchanting single pays tribute to the electrifying underground dance music scene of the 1980s that captivated not only New York City but the entire world.
Released today (September 13), 'Should Sleep' encapsulates the carefree delight of being on a dance floor, surrounded by unfamiliar faces in the late hours after midnight.
Reflecting on the song's origins, Moby reminisces: "After disco died in the late '70s, and before house music took the world by storm in the late '80s, New York was home to an underground dance music scene that was curated and maintained by revered DJs like Larry Levan and David Mancuso.
"As a punk rocker in the early '80s, I went out to clubs like Great Gildersleeves and the Ritz to see bands like Black Flag and Bad Brains."
Over time, Moby uncovered new hidden underground clubs like the Fallout Shelter, Am/Pm, The Loft, and Paradise Garage, where he was introduced to underground dance music icons like ESG, Lolleata Holloway, the Peech Boys, People's Choice, Cheryl Lynn, Manu Dibango, and many others.
moby & J.P. Bimeni - Should Sleep (Official Music Video)
These sounds provided the foundation for his latest composition, a track that Moby believes transcends individual backgrounds and identities. He describes it as "100% a tribute and a homage to that scene, when Larry Levan and David Mancuso played iconic tracks by loose joints and brass construction and the Peech Boys to an ecstatic audience of straight, gay, Black, white, Asian people, all joined in building nightly churches out of music and sweat."
Moby adds that the track, "makes me feel like I'm on the dance floor at David Mancuso's loft celebrating at midnight with joyful strangers."
London-based vocalist JP Bimeni expresses his excitement about collaborating with Moby, saying: "With music, I discover more and more that it is permeated with a good kind of magic in so many layers. Music brims with enchanted tentacles through time and space, and to the point, it illustrates this collaboration with Moby–in the music and with the music.
"It is surreal for me, as I think about the journey I am on, have been on and am now working with Moby (internal scream, over the moon).
"I feel that through this work, there's simple wisdom, warmth, healing, uplift, breath and steadfastness."
The accompanying video for the track, co-directed by Moby and Mike Formanski, captures both JP Bimeni and Moby in their element and their happy places: Moby in his home studio, surrounded by a plethora of musical instruments and his canine companion Bagel by his side, and JP in New Orleans, where he sings and dances.
For his new label, Moby actively explores fresh music, whether it's through recommendations from close friends and colleagues or by chance discoveries. His primary focus is on identifying emotive qualities in vocalists.
When he encounters a voice that resonates deeply with him, he extends an invitation to the artist, providing them with a selection of instrumental tracks he has crafted for potential collaboration.
With a prolific output, he possesses a vast catalogue of unused tracks, from which he carefully selects a few that he believes harmonize well with the artist's talents. After some creative fine-tuning following the addition of vocals, they ultimately achieve the finished product.