Moby's 10 greatest songs, ranked
22 November 2022, 18:18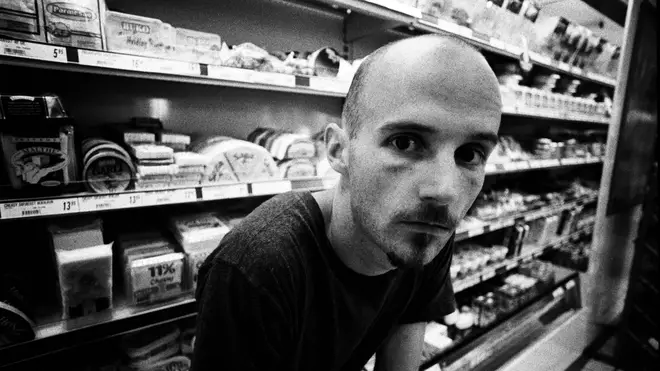 Moby has been one of the leading stars of the electronic movement of the 1990s and early 2000s.
Real name Richard Melville Hall, Moby emerged as a prolific DJ, producer and remixer in the early '90s, before finally finding international success with his 1999 album Play.
The album featured a mix of breakbeat, electronica and downtempo songs, and it made Moby a household name at the turn of the millennium.
It's his ambient tracks on that album and subsequent releases which have seen particular success and airplay, and he remains of the most influential artists in his genre.
Here are 10 of his very best songs for the perfect introduction to Moby.
Slipping Away

This was the sixth single from Moby's Hotel album, and gave him a minor hit around the world.

The single version of the track features Alison Moyet on backing vocals, and he also recorded two alternate versions: 'Escapar (Slipping Away)' with Spanish rock band Amaral, and 'Slipping Away (Crier la vie)' with French singer Mylène Farmer.

Honey

One of the more upbeat singles from Play, this hypnotic track samples the 1960 song 'Sometimes' by American blues singer Bessie Jones.

The song's music video, directed by Roman Coppola, shows three clones of Moby travelling through various locations.

Go

This was Moby's first ever song, released in 1991, and was his only true hit before his 1999 resurgence.

It was built around string samples from Angelo Badalamenti's 'Laura Palmer's Theme' from Twin Peaks. It also samples the 'Go' vocals from Tones on Tail's song 'Go!. The "yeah" vocal which features prominently in the track is actually a sample from soul singer Jocelyn Brown, from her 1985 single 'Love's Gonna Get You'.

Lift Me Up

Moby - 'Lift Me Up' (Evan Bernard Version) (Official Video)

The lead single from Moby's 2005 album Hotel, this was a top 10 hit across Europe including the UK.

Moby claims to have written the song in 2004 after the re-election of President George W Bush, explaining that it reflected his consideration to emigrate to Canada in protest.

We Are All Made of Stars

Moby - We Are All Made Of Stars

This was the lead single to Moby's 18 album in 2002, the first album after the huge success of Play.

It was written by Moby in New York after the 9/11 attacks as a way of finding hopefulness. It was inspired by quantum physics in that "On a basic quantum level, all the matter in the universe is essentially made up of stardust."[

In This World

Moby - 'In This World' (Official Video)

This anthemic song from 18 is carried on the method of using samples to create something particularly powerful.

Here, Moby used soulful vocal samples from 'Lord Don't Leave Me' by The Davis Sisters to great effect.

Extreme Ways

If you're a fan of the Bourne films starring Matt Damon then you'll know this song, as it was always used in the end credits.

Taken from 2002's 18 album, it samples the strings notes from Hugo Winterhalter's cover of 'Everybody's Talkin'' and the drum beats of Melvin Bliss's 'Synthetic Substitution'.

Natural Blues

Taken from Play, this soulful track is one of Moby's best-known songs and reached number 11 in the UK.

It contains samples from 'Trouble So Hard' by American folk singer Vera Hall, which he obtained from a box set of folk music compiled by field collector Alan Lomax.

Moby had difficulties mixing the track, but found help from the British duo 1 Giant Leap, while electronic group I Monster are also credited with mixing on the song.

Porcelain

One of the most stunning ambient tracks from Play, the song is a mellow track about the breakup of a relationship. It features the use of reversed strings and other synths.

Moby initially didn't like the song, and had to be talked into including it on Play.

It was a top 5 hit in the UK, and featured in the 2000 film The Beach.

He said of the song: "I was involved with this really, really wonderful woman, and I loved her very much. But I knew deep in my heart of hearts that we had no business being romantically involved. So, it's sort of about being in love with someone but knowing you shouldn't be with them."

Why Does My Heart Feel So Bad?

Moby - Why Does My Heart Feel So Bad?

Moby's best ever track is also one of his most moving.

It was originally written by Moby in 1992, which he described as "mediocre, generic techno." Years later, he revisited the song, considerably slowed it down and made it more "mournful and romantic".

It is based on the samples from The Banks Brothers' 'He'll Roll Your Burdens Away' from 1963.