Jason Aldean facts: Country singer's age, wife, children, songs and career explained
20 July 2023, 15:08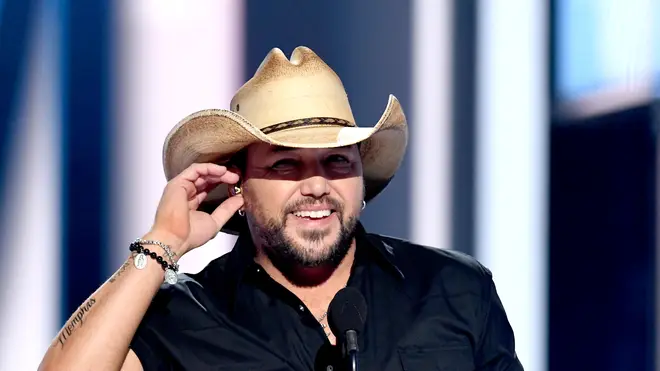 Jason Aldean is one of the most popular country singers of his generation.
The American star has been with Broken Bow Records since 2005, and throughout that time, he has put out 40 singles and 10 albums.
The Recording Industry Association of America (RIAA) have awarded him quadruple platinum certification for his 2010 album My Kinda Party, while his self-titled debut from 2005, Relentless from 2007, Wide Open from 2009, and Old Boots, New Dirt from 2014 are all platinum albums.
Over the course of his career, Jason Aldean has been nominated for five Grammy Awards, with two for Best Country Album.
How old is Jason Aldean and where was he born?

Born Jason Aldine Williams, the singer was born on February 28, 1977. He celebrated his 46th birthday in 2023.

He was born in Macon, Georgia. He was three years old when his parents divorced.

In addition to spending the summers with his father in Homestead, Florida, he was raised by his mother in Macon.

How did he get his start in music?

Jason Aldean in 2006. Picture: Getty

Young Aldean's parents supported him as he developed musically. He had the desire to perform on stage since he was 14 years old after watching the country music awards on TV.

He gave a performance at the Macon VFW hall with the assistance of his mother. He soon started doing performances at neighbourhood talent shows and festivals. He also joined the house band at the Georgia nightclub Nashville South when he was 15.

Jason created the moniker Aldean by respelling his middle name, Aldine, in order to stand out.

After graduating from high school, Aldean and his band played at venues and events all around the Southeast with the assistance of his father.

Aldean started creating and recording original music with Justin Weaver, one of the band members. He played songs from his debut album in 1998 during a showcase put on by The Buckboard nightclub in Atlanta.

Michael Knox, who was working at Warner-Chappell at the time, approached him. At the age of 21, Aldean relocated to Nashville on November 1st after signing with Warner-Chappell.

Aldean received a recording deal offer, but it was later withdrawn. After signing with a different company, he was once more let go in 2000 because his label kept delaying his recording sessions.

Numerous showcases didn't result in a contract for him. The effort at the Wildhorse Saloon, when the expected label talent scouts failed to appear, was the last straw.

Aldean gave himself six months to prepare his departure from Nashville and return to his native Georgia after becoming frustrated and disheartened with his stuttering career.

Then, five weeks later, he received a contract offer from Nashville's Broken Bow Records.

What are Jason Aldean's most famous songs?

Jason Aldean - My Kinda Party (Music Video)

Among Jason Aldean's biggest hits include:

Big Green Tractor
Dirt Road Anthem
She's Country
My Kinda Party
Don't You Wanna Stay
The Only Way I Know
Amarillo Sky
When She Says Baby
Fly Over States
Burnin' It Down

Who is Jason Aldean's wife and how many kids does he have?

Jason Aldean with ex-wife Jessca in 2011. Picture: Getty

In 2001, Jason Aldean married partner Jessica Ann Ussery.

The pair have two daughters: Keeley born in 2003 and Kendyl in 2007.

In 2012, Jason admitted to having "acted inappropriately at a bar" with former American Idol contestant Brittany Kerr, responding to reports linking them together.

In a statement, Kerr said she had suffered "a lapse in judgment" and "would like to sincerely apologize to everyone that has been affected by this."

Jason Aldean and wife Brittany Kerry in 2022. Picture: Getty

In 2013, Aldean announced his intention to file for divorce, claiming irreconcilable differences.

At the 2014 CMT Awards, Aldean and Kerr made their first official public appearance as a couple.

The couple got married in March 2015. Memphis, their son, was born in 2017, followed by daughter Navy in 2019.