Watch the cute moment school kids lined up for hugs with Kate Middleton
18 January 2018, 10:27 | Updated: 20 March 2018, 17:14
You're not exactly meant to hug a royal. Protocol states that you must only shake hands at most. But if you're a kid, you can probably get away with it.
There were hugs all round yesterday (January 17), when the Duchess of Cambridge visited the Bond Primary School in Mitcham.
The kids formed an orderly queue to meet and shake hands with Kate Middleton, only for most of them to totally break tradition and offer a hug, to which Kate gladly obliged.
The Duchess and Prince William were at the school to see the work of the Wimbledon Junior Tennis Initiative and spend time with the pupils.
Pregnant Kate had previously visited Great Ormond Street Hospital in the morning, where she met young children including four-year-old patient Rafael Chana, who is awaiting a heart transplant.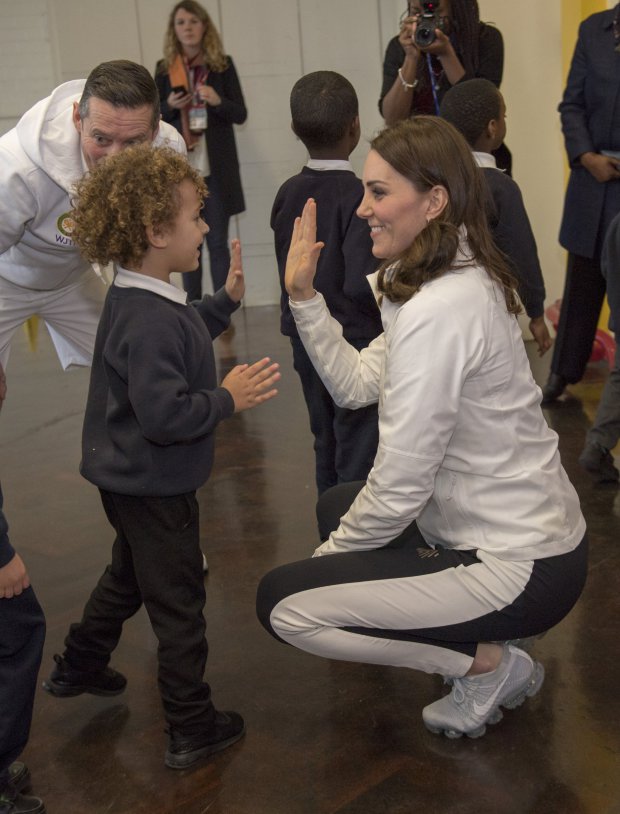 The pair shared a high five, and chatted about Rafael's love of olives. Kate said: "I love olives. Are they your favourite? What do you prefer, Olives or sweeties?"
When youngster replied that he likes olives better, Kate added: "Olives over sweeties – amazing. I used to eat lots and lots of olives when I was little. They're very good for you."
> There's already going to be a Prince Harry and Meghan Markle movie
At the hospital, Kate gave a short speech, saying: "It's been my first visit to great Ormond Street and I've been so impressed by everything I've seen and the scale of the work going on here.
"It's been wonderful to meet so many families and young people. I've been so inspired by their bravery and courage at such a difficult time. My main message is congratulations to you all. It means so much to the families, both to the parents and children. You can see the real family element the hospital brings at such a difficult time."