Game of Thrones song: Who sings 'Jenny's Song' and what does it mean?
22 April 2019, 16:06 | Updated: 22 April 2019, 16:10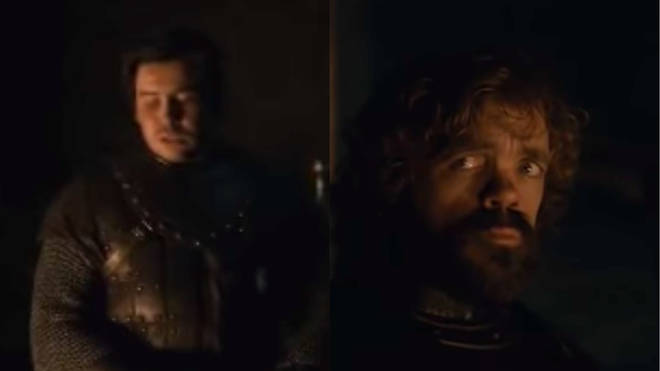 In Game of Thrones season 8 episode 2, Podrick sings 'Jenny's Song' as the surviving characters await the great battle with the White Walkers, but what does it mean?
The second episode of Game of Thrones' eighth and final season, 'A Knight of the Seven Kingdoms', features a big Easter egg for fans, from the books the show is based on.
'Jenny's Song' could also be a huge hint regarding what may happen to Jon Snow (Kit Harington) and Daenerys Targaryen (Emilia Clarke), and who may take the Iron Throne.
Who sings 'Jenny's Song'?

Toward the end of the episode, various characters — Jaime Lannister, Tyrion Lannister, Brienne of Tarth, Podrick, Davos Seaworth, and Tormund Giantsbane — are drinking together, when Tyrion asks someone to sing a song.

They all decline except for Podrick, who begins to sing a mellow tune.

The song also plays during the episode's closing credits, performed by Florence + The Machine.

On the official HBO YouTube page, the song is titled as 'Jenny of Oldstones'.

'Jenny's Song' lyrics:

High in the halls of the kings who are gone
Jenny would dance with her ghosts.
The ones she had lost and the ones she had found.
And the ones who had loved her the most.
The ones who'd been gone for so very long
She couldn't remember their names
They spun her around on the damp, cold stone
Spun away her sorrow and pain
And she never wanted to leave

Who is Podrick actor Daniel Portman?

Daniel Portman in 2016. Picture: Getty

The song is performed by Daniel Portman, who plays Brienne's squire Podrick in the show.

Daniel is a Scottish actor, who celebrated his 27th birthday in 2019.

Game of Thrones was one of his first acting jobs, when he joined the show in 2012.

He has also proved that he has a set of pipes of him, so maybe an album is in his future after the show has ended?

What does 'Jenny's Song' mean?

In George RR Martin's A Song of Ice and Fire novels, the song is known as 'Jenny's Song'.

The song is about a woman named Jenny of Oldstones, and her prince, Duncan Targaryen, who was Daenerys Targaryen's great uncle.

It is somewhat similar to Daenerys' current romantic situation with Jon Snow, and her rights to the Iron Throne.

Daenerys had two brothers who are now dead: Viserys and Rhaegar. The latter has also been revealed to be Jon Snow's dad.

Their father was Aerys II Targaryen, aka the Mad King who was killed by Jaime. However, Aerys II wasn't actually the first in line to the throne. That was actually Duncan.

In the TV show, Duncan is Aerys II's brother, but was his uncle in the books. Either way, Duncan gave up his claim to the Iron Throne.

In the song, Jenny is dancing with ghosts — 'who had loved her the most' - in the "halls of the kings who were gone." This references Summerhall, a Targaryen castle and the site of a great a fire that killed Aegon V Targaryen alongside Jenny's Prince Duncan.

Aerys II was next in the line of succession after Duncan removed himself from the equation. If it wasn't for him putting Jenny above his claim to the Iron Throne, Aerys II would probably have never taken it.

When Podrick sings about Jenny, it is not about Duncan and Jenny's love. It's arguably actually about love that was lost.