Watch Meghan Markle laugh off an awards show blunder
2 February 2018, 09:56 | Updated: 20 March 2018, 17:13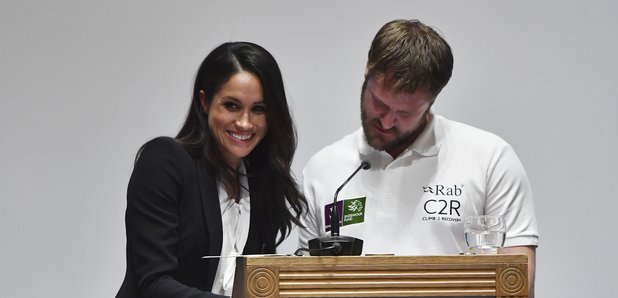 Meghan Markle proved that she keep her cool in a potentially embarrassing moment at an awards ceremony yesterday (February 1).
Attending her first black tie event as a royal fiance with Prince Harry at the Endeavour Fund Awards, Meghan handled a bit of a blunder like a pro.
The incident saw London's Goldsmiths Hall fall into an awkward silence before erupting into laughter thanks to Meghan's handling of the situation.
Watch the moment below:
The awards celebrate the achievements of wounded and sick servicemen and women. As she took to the stage to present the second award of the night, she told the audience: "I am truly privileged to be here."
However, after introducing the Celebrating Excellence Award with previous winner Neil Heritage, the room fell somewhat silent.
A mix-up with the nominees left Neil rummaging through the papers in front of him, but Meghan helped him out. Phew!
This was the fourth official royal engagement Meghan has attended with Prince Harry. The Endeavour Fund was set up by the Royal Foundation of the Duke and Duchess Of Cambridge and Prince Harry.
The couple will marry in May, but before then we can enjoy a somewhat cheesy movie about their romance so far. It was recently revealed that Meghan will break royal tradition by giving a speech at the wedding.