Pierce Brosnan and the children from Mrs Doubtfire reunite 25 years on
25 October 2018, 14:34 | Updated: 25 October 2018, 15:58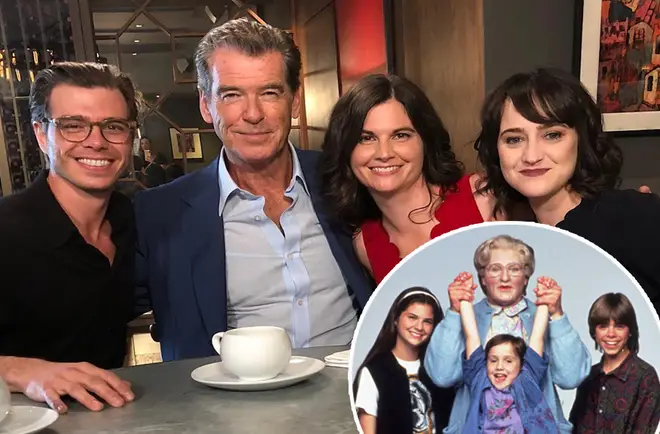 The kids from Mrs Doubtfire are unrecognisable now...
Pierce Brosnan reunited with the three child stars from Mrs Doubtfire 25 years on, and it's safe to say they look quite different.
The 65-year-old actor met up with the three (now) adults who played the wise children of much-loved Robin Williams (Mrs Doubtfire).
Lisa Jakub, who played Lydia, the eldest sibling, shared a photo of their reunion on Twitter, captioning it: "So this just happened. #mrsdoubtfire #reunion #25yearslater."
She also shared a video on Instagram showing the three children from the film (herself, 39), Matthew Lawrence (38), and Mara Wilson (31), alongside Pierce at the Mrs Doubtfire premiere 25 years ago.
The video pans to show Pierce Brosnan and the three reuniting as adults, and it melts our hearts:
"Here you go: At the premiere of Mrs. Doubtfire and here we are, we pull back slowly, tada," the Mamma Mia! actor says in the clip.
"Love you, love you all so much. So good to be a part of your lives. I want to get into the picture as well," he added.
Since then, Matthew starred in Boy Meets World and sitcom Melissa and Joey, while Lisa went on to star in Independence Day, before retiring from acting and becoming a yoga instructor.
Mara starred in hits Matilda and Miracle on 34th Street, and most recently appeared in Netflix series BoJack Horseman.
Mrs Doubtfire celebrates its 25th anniversary on November 24.