7 of the sorest losers of all time, from Come Dine With Me to The Chase
22 January 2019, 17:22 | Updated: 23 January 2019, 10:35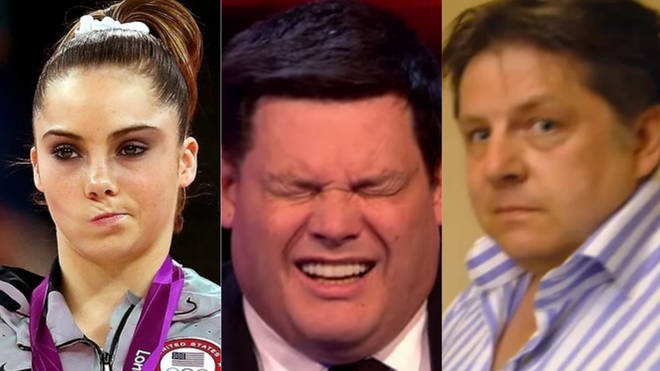 It's officially awards season, so for many it's time to practice their 'loser face' in case they won't win.
But TV has shown us over the years that for some, it's physically impossible to avoid letting on just how peeved you were at not winning. How dare they? Actually, how dare they?
We've collected some of the funniest and most outrageous sore losers from TV past, as a guide for how not to handle such a loss:
Peter Marsh (Come Dine With Me)

No one will ever beat Peter Marsh in the 'sore loser' department.

Peter had fallen out with everyone throughout the week on the culinary show, and so when his arch rival Jane was the winner, he was furious.

"You ruined my night completely just so you could have the money," he said. "I hope now you will spend it on getting some lessons in grace and decorum, because you have all the grace of a reversing dump trunk without any tyres on!"

"So Jane, take your money and get off my property!"

Wow.

Ant from Team Behemoth (Robot Wars)

Many Robot Wars contestants are passionate about what they do, but Ant from Team Behemoth couldn't quite believe his team lost out to a bunch of kids.

After losing, Ant simply stormed off the set, mouthing "Whatever".

Later, he said: "The reason I walked out there was because I was so annoyed at the team for making that decision not to go with a guaranteed win. Sometimes it's best for you to go with what you know works."

The Beast (The Chase)

Mark 'The Beast' Labbett does not like losing. It doesn't happen very often, but when it does, there's hell to pay.

In one particularly amazing moment, he couldn't hide his annoyance after losing a massive £60,000.

As the team celebrated their victory, Mark begrudgingly congratulated them before smacking his desk and storming off.

Minnie Driver (The Oscars)

When Kim Basinger won Best Supporting Actress at the 1998 Oscars, Minnie Driver was... well... shocked.

With many assuming Minnie would win for Good Will Hunting, her surprise was clear to see to everyone.

Plus, her ex Matt Damon had already won an Oscar that night, so not a great night for Minnie all round, really.

Seamus Cullen (Any Dream Will Do)

In case you don't remember, Any Dream Will Do aimed to find the next star of Joseph in Andrew Lloyd Webber's famous musical.

However, hopeful Seamus was eliminated early in the competition, and he didn't exactly take it well.

He had his moment in the sun, as he angrily got through his 'goodbye' song, before declaring that he had "been promised a show of my own!". What that show was, we'll never know.

McKayla Maroney (Olympics)

McKayla Maroney. Picture: Getty

One of the stars of the 2012 London Olympics was this 16-year-old American gymnast, who got the right hump when she didn't quite win the gold medal.

She quickly became an internet hero thanks to her peeved expression on the podium, and even recreated the face with Barack Obama in the White House.

Michael Lewis (The X Factor)

If you don't make it through to the next round of a competition, just take it on the chin and try again at another time.

Don't do what Michael did on The X Factor by lying down on the stage and refusing to leave.

It ended up leading judge Gary Barlow to actually come on stage and give him his jacket and what was left off his dignity.