Stephen Merchant: The Office and Logan star's height, girlfriend, age and more facts
14 February 2019, 16:56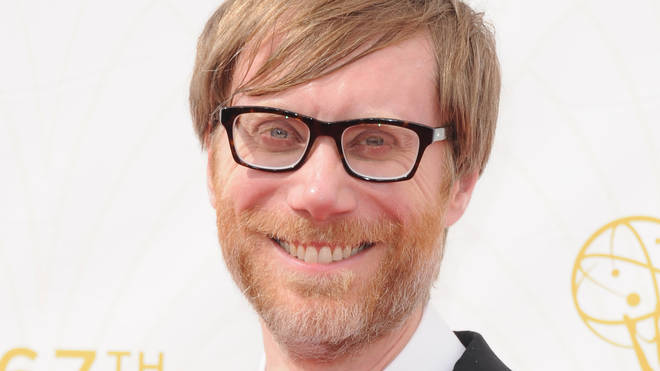 Stephen Merchant found fame as one of the co-creators of The Office with Ricky Gervais, and he's now become of the UK's leading actors, writers and... pretty much everything!
He will next appear in the wrestling comedy drama Fighting with My Family, and so here's all the important facts about the talented star:
Who is Stephen Merchant?

Stephen Merchant is a writer, director, radio presenter, comedian and actor.

He is best known for his collaborations with Ricky Gervais and Karl Pilkington. He co-created and co-directed The Office, co-wrote and starred in Extras, and co-hosted The Ricky Gervais Show.

He is also known for his voicework as Wheatley in the video game Portal 2.

He also works as a stand-up comedian, and had his first dramatic role in a movie when he played Caliban in Logan opposite Hugh Jackman.

Stephen Merchant height: How tall is he?

Stephen is known for his tall stature, and stands at a towering 6 ft 7 in (201 cm).

Stephen Merchant wife: Is he married?

Stephen Merchant and Mircea Monroe in 2019. Picture: Getty

Stephen has previously spoken of his difficulty at finding love, which he reportedly blamed on his height and reserved British nature.

However, he is now in a relationship with American model and actor, Mircea Monroe.

Monroe is a former cover girl for Maxim magazine, and played Morning Randolph on the TV sitcom Episodes. She has also appeared in Scrubs, Without a Trace, Anger Management and others.

Stephen Merchant age: How old is he?

Stephen was born on November 24, 1974. He celebrated his 44th birthday in 2018.

He was born in Hanham, South Gloucestershire, and is the son of nurse Jane Elaine and insurance rep Ronald Merchant.

How did he get his big break?

Ricky Gervais and Stephen Merchant in 2010. Picture: Getty

Merchant began his career performing stand-up comedy at Bristol's Comedy Box.

He later said: "The first week I did really well. The second week I died on my arse. I realised that stand-up was not that easy after all." He also appeared as a contestant on a 1997 episode of Blockbusters.

Merchant met Ricky Gervais in 1997, when Gervais (then working as 'Head of Speech' at XFM, now Radio X) hired Merchant as his assistant.

Gervais later said that he called Merchant for an interview because it was the first CV handed to him.

The duo hosted a Saturday afternoon radio show together in 1998, and the rest is history.