The UK's Eurovision entry SuRie gets interrupted by mic-grabbing stage invader
12 May 2018, 21:29 | Updated: 29 March 2019, 11:21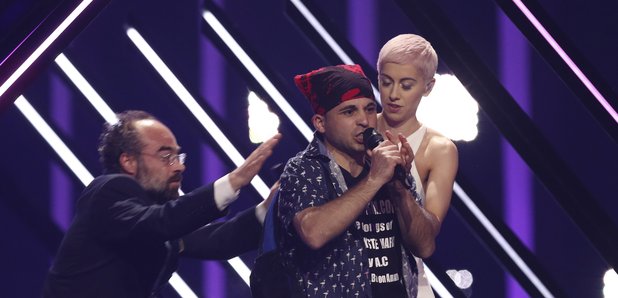 SuRie's Eurovision performance was interrupted by a stage invader tonight (May 12).
The British entry for the annual talent contest was singing her track 'Storm' at the Altice Arena in Lisbon, Portugal, when a person ran on stage and stole the microphone from her hand.
SuRie looked confused as security ran them off the stage.
However, SuRie then managed to resume her performance, and won some praise from the crowd with 'Storm', as they chanted the track title in support.
Watch the incident below:
"We demand freedom," the invader shouted before adding more remarks, before being dragged off. He is now in police custody, the European Broadcasting Union said. It is said that the same man invaded the stage at the National Television Awards earlier this year, and The Voice in 2017.
"Not sure what they're going to do now," said a shocked commentator Graham Norton.
Following the performance, the 29-year-old singer got a standing ovation from the 20,000-strong crowd.
The UK's Eurovision page tweeted: "Just to confirm SuRie is ok. More news when we get it. #Eurovision (sic)"
A spokesperson said: "SuRie was offered the option to perform again by the EBU. SuRie and her team are extremely proud of her performance and have together decided that there is absolutely no reason to perform the song again."
SuRie was offered the chance to sing again at the end of the show, but she declined. And good on her!