The kids from 'You've Got Mail' have reunited 20 years later and we now feel old
16 November 2018, 16:37 | Updated: 16 November 2018, 16:52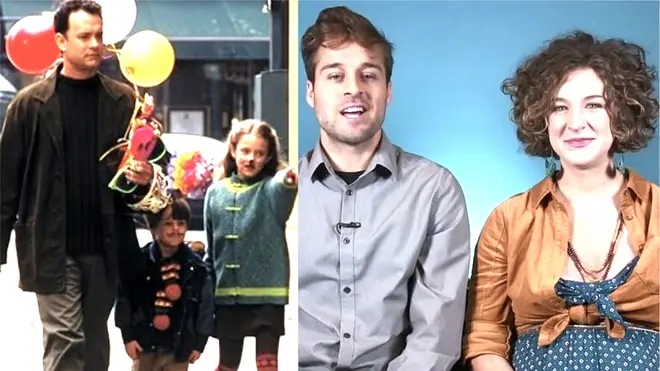 We can't quite believe it's been 20 years since Tom Hanks told Meg Ryan those immortal (if cheesy) words: "Don't cry, shop girl".
Yes, classic romcom You've Got Mail celebrates its 20th anniversary this year, and to mark the occasion, the film's two child stars have reunited.
In the film, rivals Joe Fox (Hanks) and Kathleen Kelly (Ryan) meet in an AOL chatroom (remember those?), and start a close friendship and later romance, over email.
Jeffrey Scaperrotta, who played Joe Fox's much younger half-brother Matt, is now 25, while Hallee Hirsh, who played his much younger aunt Annabelle, is now 30.
The two spoke to Today about their time making the film, and working with Hollywood greats Hanks and Ryan:
'You've Got Mail' Child Stars Reunite, Talk Tom Hanks And Meg Ryan | TODAY
One of the most memorable moments from the film, was when Joe meets Kathleen in person for the first time at her shop, and when Matt hears the word 'fox' — his last name — he spells it out loud, impressing Kathleen but making Joe nervous.
"A lot of people, when I tell them that I'm in the movie, that's all they ask me to do," said Jeffrey, who was five at the time.
"Even now, 20 years later, they'll give me the good old, 'F-O-X'. That's what I'm known as. I'm always the Fox kid."
Speaking about working with Hanks, he added: "I didn't know I was actually filming just because of how friendly he was with me. Like, I was on his shoulders for basically the whole entire time. Even after shooting, I was, like, still hanging on his shoulders, eating cotton candy, playing with the carnival games."
Hallee, who was ten at the time, revealed she was a huge fan of Meg Ryan. "I was obsessed with Meg Ryan," she said. "I wanted to be Meg Ryan when I grew up.
"I was so starstruck by Meg Ryan, and she was just an incredibly focused actress and I remember watching her perform a scene and saying the lines each time like she had never said them before in her entire life, and being in so much awe of her."
Right, we know which movie we're watching tonight...