Annie Lennox celebrates the "wonderful and miraculous" story of 'Sweet Dreams' on its 40th birthday
6 January 2023, 15:03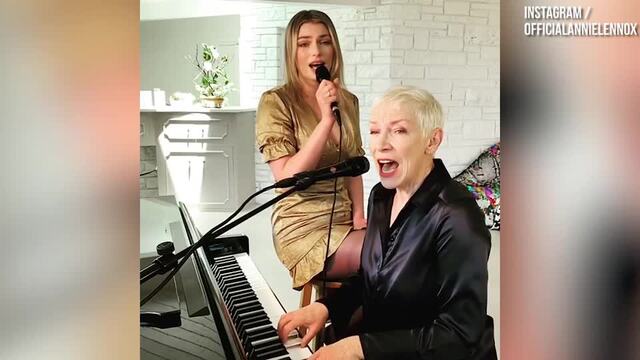 Annie Lennox performs duet with daughter on Instagram
Eurythmics breakthrough hit 'Sweet Dreams (Are Made of This)' is somehow 40 years old already.
Annie Lennox has celebrated the absolutely massive 'Sweet Dreams (Are Made of This)' as the song turned 40 this week.
The song was first heard on the Eurythmics album of the same name, which was released on January 4, 1983.
It was later released as the fourth single from the album on January 21, and became the band's breakthrough hit, reaching number two in the UK singles chart and going one better in the US, topping the Billboard Hot 100.
"It's almost impossible to believe that 'Sweet Dreams are Made of This' was released forty years ago!" Lennox said on Instagram.
"It has continued to travel the world and the seven seas ever since, which is a wonderful and miraculous story all to itself!"
She added: "Songs are like ships… They have their own particular voyages and destinations..
"Once they've been launched, there's no turning back. You just have to follow the journey."
As well as its groundbreaking synth-driven sound, 'Sweet Dreams (Are Made of This)' had a classic music video directed by Chris Ashbrook which became a staple of the early MTV.
Eurythmics, Annie Lennox, Dave Stewart - Sweet Dreams (Are Made Of This) (Official Video)
The song was written in the aftermath of the breakup of The Tourists, a band that contained both Annie Lennox and Dave Stewart.
'Sweet Dreams (Are Made Of This)' is a double platinum single in the UK, and has racked up over 750 million views on YouTube and nearly a billion streams on Spotify.
It has had high-profile covers by artists as diverse as Dr Alban, Marilyn Manson and JX Riders featuring Skylar Stecker.