Bonnie Tyler offers explanation after bizarre mimed TV performance of 'Total Eclipse'
13 April 2023, 13:50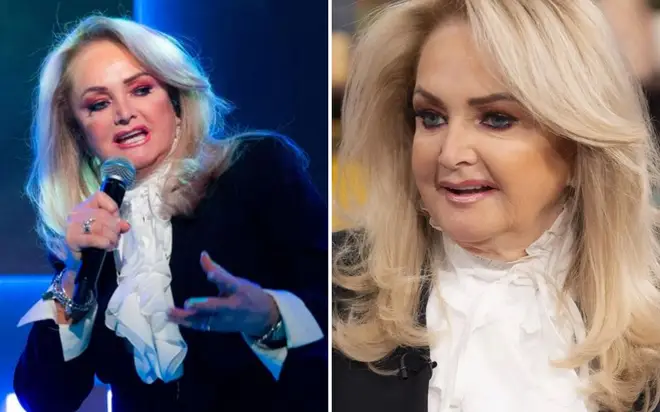 Bonnie Tyler has one of the most distinct voices in the business.
The Welsh singer has made a career out of her powerful, dramatic, husky vocals as well as her vibrant personality.
Bonnie Tyler's career has spanned a total of five decades, achieving her first hit in 1978 with 'It's A Heartache' which rose in the charts on both side of the Atlantic.
What we all know and love Bonnie for, however, was her global smash hits 'Total Eclipse Of The Heart' and 'Holding Out For A Hero'.
Both tracks, written by Jim Steinman, made Bonnie a bonafide superstar - as soon as you heard one note of each track, it was instantly recognisable as the Welsh firebrand.
After nearly 50 years in the business, Bonnie is reflecting on her huge career in her new memoir which is in the works.
She took to ITV's This Morning to discuss her upcoming memoir, and her career so far and revealed she's got no plans to retire any time soon.
Of course, she took the opportunity to belt out her iconic hit 'Total Eclipse Of The Heart' for lucky viewers. But it didn't quite go to plan.
Singing Sensation Bonnie Tyler Celebrates 50 Years In The Music Industry! | This Morning
Fans were left confused and divided when they realised that Bonnie wasn't actually singing at all - she was miming. Not only that, but she was miming to the original song that she recorded 40 years ago rather than a recent performance.
It came as a huge shock to her UK fans, as she's built a reputation for her incredible voice and the fact she always sings live.
Viewers of the show took to social media to vent their disappointment, with one person tweeting "Bonnie Tyler can sing unfortunately she can't mime."
"Bonnie Tyler voice has gone she can only mime now," someone else wrote, with another adding: "Wow what a let down with lip sync Bonnie Tyler."
It must've seemed bizarre for fans of hers and viewers of the show, as she never usually mimes so came across as incredibly unnatural.
But her super fans came to her defence, as they were just happy to see her performing, despite it not hearing her incredible voice live.
One fan posted: "Love Bonnie Tyler, 'Total Eclipse Of the Heart' is a timeless song. Beautiful as ever", with someone else adding "Love Bonnie Tyler. What a character. Still on the road living her best life. Tune!"
With opinions split, Bonnie herself has now come out with an explanation as to why she chose to mime on the show.
"A cold is a singer's worst enemy, but hoping to be on the mend real soon" she tweeted after the show, explaining that it was a one-off.
Her manager later responded to the criticism in a statement, writing: "Bonnie is incredibly disappointed that she had to lip sync on ITV's This Morning today."
"She woke up with a terribly bad sore throat, which was obvious from her speaking voice during the interview, and at rehearsals, it was clear she couldn't sing today."
"So rather than let TV and her fans down at the last moment she decided to mime instead. In fact, I have just spoken to her on the phone and it's got a lot worse, she can hardly speak at all now."
The statement concluded however that Bonnie was "looking forward to her voice being back to normal" soon.
Tyler's representative confirmed: "Everyone should be assured that Bonnie's voice is still very strong when she doesn't have a cold, as anyone coming to any of her live shows this year will be able to hear for themselves."
It'll come as a huge relief to fans who believed her voice was gone and that she couldn't belt out her classics like she used to. But it looks like that's not the case.