Bruno Mars facts: Singer's age, height, girlfriend, family and more revealed
28 December 2021, 11:56 | Updated: 17 March 2023, 11:50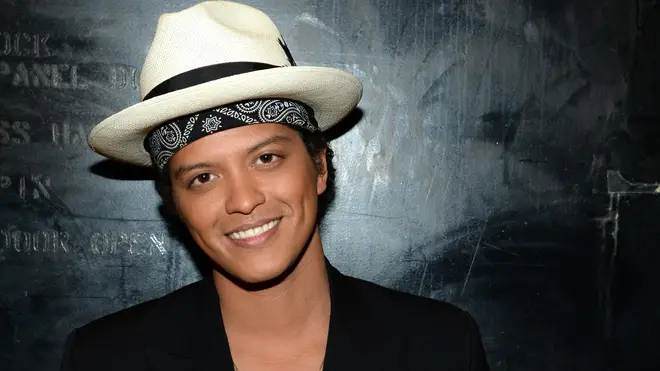 Bruno Mars is undoubtedly one of the most talented entertainers in the world.
The American singer-songwriter is also a hugely respected producer, musician, and dancer, known for his fantastic stage performances and for his wide range of musical styles, such as pop, R&B, funk, soul, reggae, disco, and rock.
Bruno Mars has sold over 130 million records around the world and has won 11 Grammys as of 2021.
Here are all the big facts about Bruno Mars that every fan should know:
How old is Bruno Mars and where is he from?

Ed Sheeran serenades Bruno Mars for his birthday

Bruno Mars was born on October 8, 1985. He celebrated his 36th birthday in 2018.

Bruno was born in Honolulu, Hawaii, to parents Peter Hernandez and Bernadette San Pedro Bayot.

His father is of half Puerto Rican and half Ashkenazi Jewish descent (from Ukraine and Hungary), and is originally from Brooklyn, New York.

His mother emigrated from the Philippines to Hawaii as a child, and was of Filipino, and some Spanish, ancestry. His mother died in 2013 at the age of 55 from a brain aneurysm.

Is Bruno Mars married and does he have any children?

Bruno Mars and Jessica Caban in 2016. Picture: Getty

Bruno began dating model Jessica Caban in 2011.

As of 2021, the pair still live together in a mansion in the Hollywood Hills with a Rottweiler named Geronimo.

How tall is Bruno Mars?

Like his idol Prince before him, Bruno isn't one one of the tallest popstars.

He is thought to stand at 5ft 4in, or 1.65m tall.

Does Bruno Mars have any siblings?

Jaime Kailani, Tahiti Hernandez, Tiara Hernandez and Presley Hernandez of The Lylas. Picture: Getty

Bruno's brother Eric, has often served as the drummer for his backup band, The Hooligans.

Their sisters, Tiara, Tahiti, and Presley, as well as cousin Jaime, make up the girl group The Lylas.

What is Bruno Mars' net worth?

Bruno Mars is thought to have an estimated net worth of $175 million, according to Celebrity Net Worth.