Duffy reveals harrowing four-week kidnap ordeal in full detail
6 April 2020, 13:23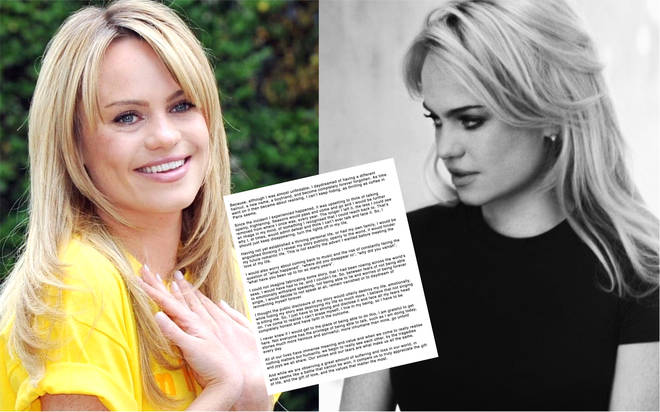 Duffy has opened up about her four-week kidnap ordeal in a lengthy personal post.
Warning: This article contains details of sexual assault
Welsh singer Duffy has claimed she was "drugged, raped and held captive" in a harrowing social media post back in February.
The 35-year-old singer, who has been largely out of the spotlight for several years, revealed why she took a step back from the public eye and released her full statement today.
In a long statement posted on her website, Duffy wrote: "It was my birthday, I was drugged at a restaurant, I was drugged then for four weeks and travelled to a foreign country.
"I can't remember getting on the plane and came round in the back of a travelling vehicle. I was put into a hotel room and the perpetrator returned and raped me. I remember the pain and trying to stay conscious in the room after it happened.
"I was stuck with him for another day, he didn't look at me, I was to walk behind him, I was somewhat conscious and withdrawn. I could have been disposed of by him. I contemplated running away to the neighbouring city or town, as he slept, but had no cash and I was afraid he would call the police on me, for running away, and maybe they would track me down as a missing person.
"I do not know how I had the strength to endure those days, I did feel the presence of something that helped me stay alive. I flew back with him, I stayed calm and as normal as someone could in a situation like that, and when I got home, I sat, dazed, like a zombie.
"I knew my life was in immediate danger, he made veiled confessions of wanting to kill me. With what little strength I had, my instinct was to then run, to run and find somewhere to live that he could not find."
Duffy went on to add: "The perpetrator drugged me in my own home in the four weeks, I do not know if he raped me there during that time, I only remember coming round in the car in the foreign country and the escape that would happen by me fleeing in the days following that.
"I do not know why I was not drugged overseas; it leads me to think I was given a class A drug and he could not travel with it."
In the long post, Duffy went on to explain why she has decided to speak about this publicly and several years later.
Duffy said: "I am sharing this because we are living in a hurting world and I am no longer ashamed that something deeply hurt me, anymore. I believe that if you speak from the heart within you, the heart within others will answer.
"As dark as my story is, I do speak from my heart, for my life, and for the life of others, whom have suffered the same."
Duffy revealed she has since moved house five times in order to feel safe and added that she is planning to "release a body of work".
The singer said: "I know this much though, I owe it to myself to release a body of work someday, though I very much doubt I will ever be the person people once knew. My music will be measured on the merit of its quality and this story will be something I experienced and not something that describes me.
"And as for you… they do say nothing worthwhile came without sacrifice, your personal actions, decisiveness and commitment, is making the difference now. As we come together, we see results, and there is just so much hope to take from that.
"And I really don't know what's next for me. I would like to experience me being who I really am, for the first time, privately. To feel a peace that I have been, until now, only half feeling."
You can read Duffy's full statement here.
For help and advice with sexual assault you can contact:
Rape Crisis – Helpline: 0808 802 9999
Victim Support – Helpline: 0333 300 6389
The Survivors Trust – Helpline: 0808 801 0818