Holly Johnson facts: Frankie Goes to Hollywood singer's age, partner and career revealed
12 May 2023, 15:20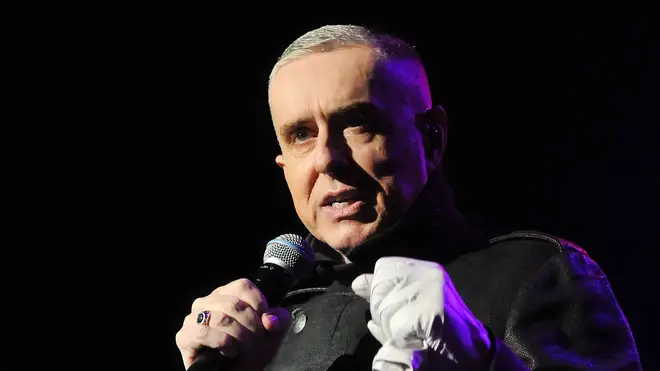 Holly Johnson became an overnight star when his band Frankie Goes to Hollywood took over the charts in 1984.
Nearly 40 years later, Frankie Goes to Hollywood have reunited as Eurovision takes place in their hometown of Liverpool.
In the late 1970s, Holly Johnson was a bassist for the band Big in Japan.
In 1982, he joined the band Frankie Goes to Hollywood, and he later found international fame as its lead singer and lyricist. The group scored huge successes with the singles 'Relax', 'Two Tribes', 'Welcome to the Pleasuredome' and 'The Power of Love'.
In 1987, tension grew between Holly and the rest of his group, and got into a feud with his record company, winning a case in court against them and quitting the band.
Frankie Goes To Hollywood - Two Tribes
Two years later, his debut solo album Blast reached number one in the UK. Two singles - 'Love Train' and 'Americanos' - reached the top 5.
In 1991, Holly Johnson was diagnosed with HIV. He became a painter and printmaker, and wrote songs until 1994 when he returned to performing music.
In late 2015, he co-wrote a song with Gary Barlow for the film Eddie The Eagle, and in 2023 he reunited with members of Frankie Goes to Hollywood for a performance ahead of Eurovision.
How old is Holly Johnson?

Holly Johnson in 1986. Picture: Getty

Full name William Holly Johnson, he was born on February 9, 1960. He celebrated his 63rd birthday in 2023.

He was born in Liverpool to parents Eric and Pat (née McGlouchlin) Johnson. His paternal grandfather Patrick was Irish, and his maternal grandfather Patrick McGlouchlin was of 3/4 Indian descent.

He was nicknamed Billy as a child, and at 14 he took on the name Holly, inspired by actress Holly Woodlawn, a friend of Andy Warhol.

Is Holly Johnson married?

Holly and Wolfgang in 1985. Picture: Getty

Holly Johnson met his partner, Wolfgang Kuhle, in 1983, and the couple live together in their home in Fulham.