LadBaby interview: Can YouTube stars really score a second Christmas number one?
17 December 2019, 11:14
Last year, YouTube star LadBaby surprised everyone by achieving the 2019 Christmas number one with a sausage roll-themed cover of Starship's 'We Built This City'.
The charity single managed to beat the likes of Ariana Grande and Ava Max to the top spot, despite the uphill struggle of beating the monumental streaming figures of their rivals.
This year, they're back. Mark and Roxanne Hoyle have recorded a silly-but-amazing cover of Joan Jett's 'I Love Rock & Roll' (titled, you guessed it, 'I Love Sausage Rolls').
After the latest midweeks, they're currently number one ahead of Stormzy and Wham!, and look on course to achieving what only The Beatles and Spice Girls have done before: score consecutive Christmas number one singles.
The married duo popped into Smooth Radio to give the latest on their chart battle, particularly after they spotted our recent chat with Robbie Williams, who may or may not have remembered who LadBaby was.
Watch our full interview above.
I Love Sausage Rolls (Official Music Video) - LadBaby
When asked what his reaction to seeing our Robbie video, Mark said that he told Roxanne: "'Rox, come and see this! Come and see this! Have you seen what Robbie Williams said?'"
"He called me in and said, 'He knows me for a sausage roll. He knows me for a sausage roll!'," Roxanne said. "And then you got really happy that he called him a viral sensation.
"The fact that Robbie even spoke of me, made me quite proud that he actually spoke in a sentence."
On last year's triumph, Mark said: "I don't think anyone thought we would, did they? I don't think anyone in the world thought we stood a chance. Yeah, it was all crazy and a bit of a whirlwind last year. I think only in February we sort of realised what had happened."
Roxanne said: "I think when we heard it on the radio that we were at number one, it was a little bit crazy. Mark was sort of crying. I was screaming."
"I cried on a Facebook Live to 60,000 people, which wasn't the plan," Mark added. "But it's fine, it's fine. It was nice to share it with that many people, and for that many people to have, you know, gotten behind us in the charity. It was just amazing."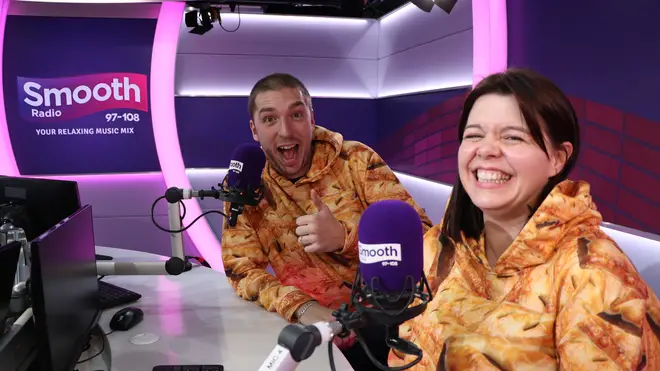 There was also a funny incident involving Ariana Grande:
Roxanne: "Yeah. I mean, to beat Ariane Grande was a little bit mental if I'm honest."
Mark: "I DM-ed her. She ignored me. I've tried everybody. Honestly! I tweeted her."
Roxanne: "I've put a ban on him DM-ing people."
Mark: "I tweeted her about a sausage roll, and then read it back, and it probably sounded a bit dodgy. But it wasn't meant like that. I did genuinely try to reach out to her in the right way."
Roxanne: "I have this thing where I'm like, 'Did Ariane Grande Google what a sausage roll was?'
Mark: "Sitting there on Christmas Day: 'A what? A sausage what? What is that?' Brilliant. Let's hope so."
While Roxanne wasn't too convinced, Mark's next plan? A full album. "I keep joking: The Beige Album. Right? At some point, I've got to stop joking and make it happen. A summer banger has to be on there. Yeah, all songs about beige: chips, pork pies, Doritos."
The single will once again raise money for The Trussell Trust. After seeing the amazing outcome of what last year's single achieved for the charity, they realised they needed to try again.
"They're basically a charity in the UK that helps people living in poverty," Mark said. "Last year's song raised enough money to supply 70,000 emergency food packages which, when you consider – 800,000 food packages went out in the last six months alone. You know, the need has never been more.
"Mark and I have been at the food banks for the last few months and stuff, and it's just… what people don't realise is that there are families like us with their kids coming in for all different reasons," added Roxanne. "It's unluckiness or disabilities – there's no reason why you might have to end up at one.
"But we were at one, in the day, and there were 30 to 60 knocks at the door, and there were families, there were children, there was babies coming in. And the emergency food parcels that this – 99p, if you download it, it goes to – is immense.
"It keeps people alive. So for us, we were like… we weren't going to do this year, really. Well, I said to Mark, 'No, let's have a Christmas this year.' But then all the facts started coming in from the food banks, and we were like, 'We can't not help'. 70,000 people have been helped. We don't want to leave them with nothing again."
'I Love Sausage Rolls' is out now.