Robbie Williams interview: "I have no chance of being the Christmas number one"
28 November 2019, 11:46
Robbie Williams is back with his first ever Christmas album, and it's full to brim of festive classics and brand new anthems.
Recently, Robbie said that he'd love to take Michael Bublé "off his perch" as the Christmas King, but he has revealed to Smooth Radio that perhaps he should have asked him for a duet on his album, The Christmas Present.
"I love him," Robbie exclusively told us about his Canadian pal. "I'm a big fan of him as an artist and as a person. He's a great lad.
"Yeah, the Christmases gone past – like, I'll be in a shop, and I'll stop, and I'll be like, 'This is incredible! Who did the production on this?! Oh, it's Bublé…'
"It happens like five or six times every year. The reason why that album is so huge is because it's a very, very special album. I'm just veering into his lane, and staying here for a little bit, and then moving off."
On whether Michael could have appeared on his album, he said: "He sang with me on an album of mine called Swings Both Ways. You sort of get it in your head that you can only use that token once. I might be wrong. I should have got him involved.
"But why would he want to queer his patch by singing on my Christmas album, when he's got his own Christmas to pay for? "
Robbie told us that he doesn't expect to be this year's Christmas number one, even though he's top of the bookmakers' odds right now.
"I don't know how they think that's going to happen. My audience don't stream. If people don't know at home, the charts are mainly about streaming. Is it all streaming now?"
Robbie Williams | Time For Change (Official Video)
He continued: "It's really messed things up, really. It makes it almost impossible to break the top 20, for a middle-aged artist. Yeah, I wish it was different. It's not.
"If there were still physical sales, I think I'd be in with a shout. But it's streaming. So I don't think I will be. I wouldn't put your money on it, but – hey – it could be a Christmas miracle."
Meanwhile, Robbie also spoke of his lack of recognition from the Queen, with his Take That bandmate Gary Barlow receiving an OBE several years ago.
"All I'm saying is: Gary Barlow, OBE. Robbie Williams? That's it. Just Robbie Williams. Apparently, what you have to do is organise a Jubilee for the Queen, and shut down the roundabout outside the Palace, and get Cliff Richard in, and Lenny Henry, and you get letters after your name."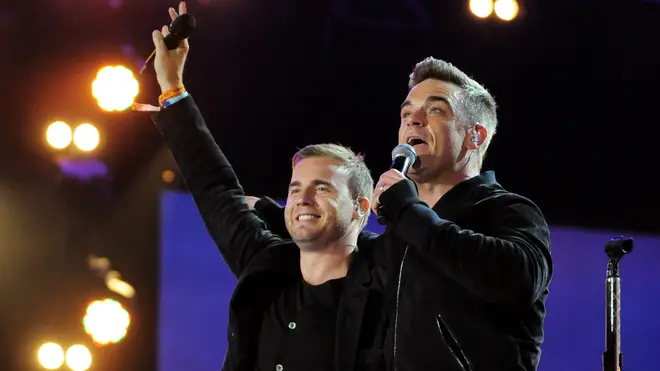 He jokingly added: "Not that it rankles me at all. But it happens – I look at the New Year's Honours List, and I'm never there. Never mind."
Robbie's album The Christmas Present is out now, and he'll support the release with an ITV special and a one-off Christmas gig at Wembley.