Robbie Williams announces his first Christmas album, with Rod Stewart and Bryan Adams duets
18 October 2019, 09:20 | Updated: 18 October 2019, 10:42
Robbie Williams will release his first Christmas album in 2019.
The 'Angels' singer will release a double album of festive covers and original Christmas songs in time for the festive period.
Here's all the details you need:
What is Robbie's Christmas album called and when is it released?

Robbie Williams Christmas album.

Picture: Columbia

The album is called: The Christmas Present, and it will be released on November 22.

It will be a double album, with the first half called Christmas Past, featuring a host of classic festive covers and other new songs.

The second half will be titled Christmas Future, containing a bunch of brand new Christmas songs and a few more old favourites.

Are there any special duets on the album?

There are indeed!

There will be collaborations between Robbie and fellow pop legends Rod Stewart and Bryan Adams.

Plus, Jamie Cullum appears, alongside a duet with... boxer Tyson Fury.

What is the tracklisting?

Disc 1: Christmas Past

1. "Winter Wonderland"
2. "Merry Xmas Everybody" featuring Jamie Cullum
3. "Let It Snow! Let It Snow! Let It Snow!"
4. "The Christmas Song (Chestnuts Roasting on an Open Fire)"
5. "Coco's Christmas Lullaby"
6. "Rudolph"
7. "Yeah! It's Christmas"
8. "It's a Wonderful Life" featuring Poppa Pete
9. "Let's Not Go Shopping"
10. "Santa Baby" featuring Helene Fischer
11. "Best Christmas Ever"
12. "One Last Christmas"
13. "Coco's Christmas Lullaby Reprise"

Disc 2: Christmas Future

14. "Time For Change"
15. "Idlewild"​
16. "Darkest Night"
17. "Fairytales" featuring Rod Stewart
18. "Christmas (Baby Please Come Home)" featuring Bryan Adams
19. "Bad Sharon" featuring Tyson Fury
20. "Happy Birthday Jesus Christ"
21. "New Year's Day"
22. "Snowflakes"
23. "Home"
24. "Soul Transmission"

-Bonus tracks

25. "I Believe in Father Christmas" 
26. "Not Christmas"
27. "Merry Kissmas​"
28. "It Takes Two featuring Rod Stewart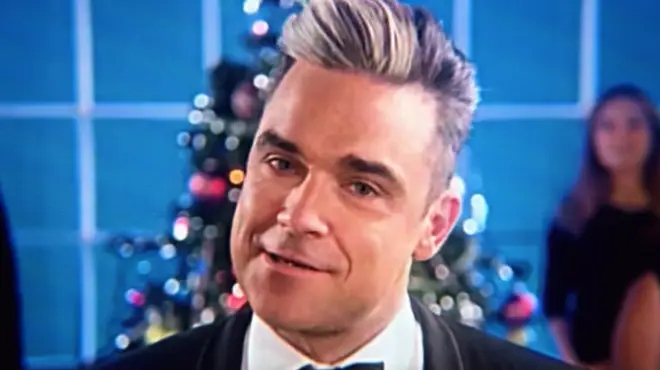 "I'm beyond excited to announce my first ever Christmas album," Robbie said.
"I've done a lot in my career and releasing this record is another dream come true. Making this album has been so much fun and I can't wait for you all to hear it."
Robbie Williams | Dream A Little Dream (Official Video)
His previous studio album was 2016's Heavy Entertainment Show, and he has since released two Under the Radar rarities compilations.
Last year, he joined the judging panel of The X Factor alongside wife Ayda Field, but they will not be returning in 2019.
Meanwhile, Robbie will also sing the theme song for Channel 4's Christmas TV adaptation of the children's book The Tiger Came To Tea. The track will be titled 'Hey Tiger!'.