Robbie Williams new album Under the Radar Volume 3: Release date, tracklist and all the details
29 November 2018, 15:44 | Updated: 4 January 2019, 12:07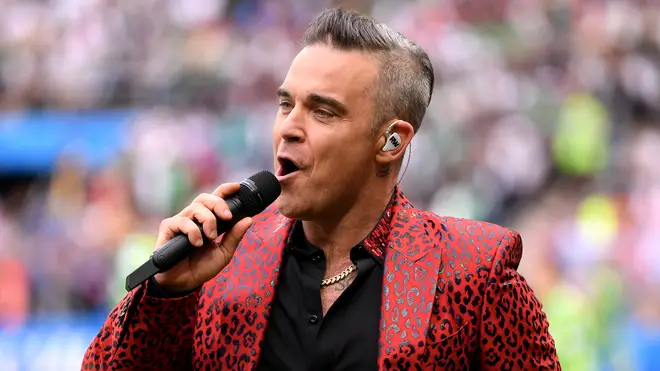 Robbie Williams has had quite the busy few months...
Not only did he open the 2018 World Cup with a medley of his biggest hits in Russia (and shocked everyone by sticking up his middle finger), but he's also joined the judging panel of The X Factor alongside wife Ayda Field.
Robbie will also release a brand new album this year, and here's all the latest details as and when we get them...
Is Robbie Williams recording a new album?

Sort of.

Robbie will release the third instalment of his Under the Radar series, which features previously unreleased material, rather than a brand new studio album.

"I'm very excited to announce the release of my next album, and it's going to be called Under The Radar Volume 3," he said on social media.

"Just like the two records before it, this is a collection of songs that have a special place in my heart but didn't make it onto the full album. I've always wanted you to hear them and this is your chance."

When is the release date?

The album will be released on February 14, 2019.

However, it will only be available to purchase via his official website.

Under the Radar Volume 3 tracklist: What songs will appear?

Robbie Williams | I Just Want People To Like Me - Official Video

The tracklisting is:

1. The Impossible
2. Gold
3. Dirty Rotten
4. Good People
5. Indestructible
6. Indestructible (Project Money Remix)
7. No F**ks
8. Underkill
9. Bye Bye
10. Reality Killed The Video Star
11. I Just Want People To Like Me
12. Hunting For You (Acoustic)
13. Into The Silence (Ambient)
14. The National Anthem Of Robbie

What was Robbie's last album?

Robbie Williams released his 11th studio album The Heavy Entertainment Show in November 2016.

He also released a second edition of his Under the Radar albums - a compilation of rarities and B-sides - in 2017.

Who might feature on the album?

Picture: Getty

There's a chance that Robbie might team up with operatic soprano Aida Garifullina on a new song.

The Russian singer joined Robbie during his World Cup performance in a duet of 'Angels' and 'Feel'. Garifullina later revealed that Robbie was keen to work with her.

She told the Press Association: "[After the performance] I thanked him for this amazing journey and he said: 'We should do something in the future together, we should do some songs together in the future.'"

Robbie has also performed live with both Taylor Swift and Ed Sheeran in recent months, so you never know...