Robbie Williams wants to take Michael Bublé off his Christmas perch: 'It must end now'
21 October 2019, 11:04 | Updated: 16 November 2022, 15:27
Robbie Williams has sparked a new joke feud with Christmas king Michael Bublé.
Robbie is about to release his first Christmas album, something Michael re-enters the album chart with each year for after his own 2011 album release.
However, as 45-year-old Robbie has been eyeing up Michael's Christmas success each year, he revealed he now wants to be Mr Christmas and "own" the festive season.
Robbie, declared that Michael's Christmas music reign "must end now".
Speaking at a Q&A to launch his new album, Robbie said: "You're always looking for a reason to go into the studio.
"And I thought: 'Why don't I own birthdays like Paul McCartney and Stevie Wonder? Or New Year's Day like… U2?'
"Well, it's a bit depressing, that one, isn't it? You wouldn't put that one on for a shindig."
Robbie went on to say: "This album was gonna be called Achtung Buble [Attention Buble].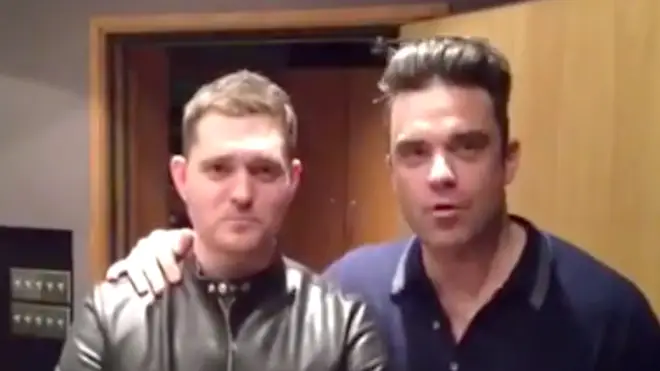 "I fu**ing love Michael, but it must stop. It must end now."
Robbie has previously collaborated with Michael after he featured on Swings Both Ways for a duet of 'Soda Pop'.
The 'Angels' singer will release his first ever Christmas album, The Christmas Present, on November 22. The album will feature special guest appearances from Rod Stewart, Bryan Adams, Jamie Callum and Tyson Fury.
Robbie has also announced a brand new UK tour date for this December, called The Robbie Williams Christmas Party, taking place at The SSE Arena in Wembley on December 16, 2019.
Michael, on the other hand, will be performing An Evening with Michael Bublé at The O2 Arena on December 9 and 10 as part of his UK tour.
Tickets for The Robbie Williams Christmas Party show go on sale to the general public on Thursday November 7 at 10am.
The Christmas Present is Robbie's 13th studio album and sees Robbie working once more with long-time collaborator Guy Chambers, who produced the majority of the record with Richard Flack.