Christmas number one odds for 2019: Who will top the festive chart this year?
9 December 2019, 12:00 | Updated: 12 December 2019, 12:29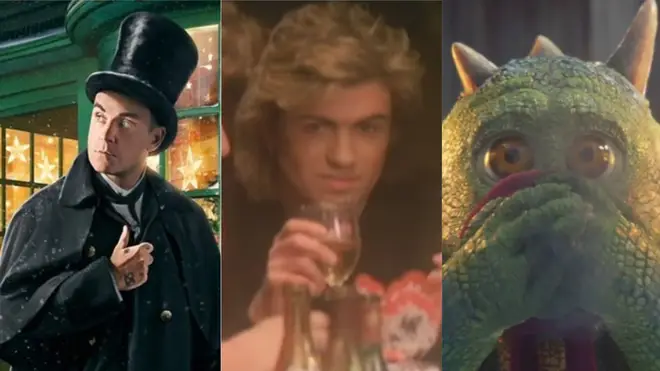 The coveted Christmas number one all up for grabs this year, but who will win?
Bookmakers have begun taking bets on the Christmas number one for 2019, and some iconic faces come near the top of the list.
Last year, it was LadBaby's novelty sausage roll-themed cover of Starship's 'Nothing's Gonna Stop Us Now' who took the crown, but who will challenge for it this year?
LadBaby - 6/4

Last year, YouTube star LadBaby scored the surprise Christmas number one with his novelty cover of Starship's 'We Built This City', as an ode to sausage rolls.

This year, he's trying again, all in the hopes of raising money for charity.

We'd like to take some credit for this happening, as LadBaby references Smooth's recent interview with Robbie Williams (where we mention his success last year) as an inspiration behind launching a new campaign!

Lyra Cole - 11/2

Lyra Cole - When A Child Is Born

Six year-old Lyra was diagnosed with a brain tumour as a baby, and has released a Christmas single to help others with the condition.

She has already reached the top of several download charts, and bookmakers have given her great odds of topping this year's chart, while also raising money for Brain Tumour Research with her cover of 'When a Child is Born'.

Ellie Goulding - 6/1

Ellie Goulding's cover of Joni Mitchell's 'River' was an Amazon Music exclusive for a few weeks, and is now finally also on YouTube.

It has risen to number two in the official midweeks chart (as of December 9), so she's giving herself a really good chance of going one better.

Lewis Capaldi - 6/1

Lewis Capaldi - Before You Go (Lyric Video)

Scottish singer-songwriter Lewis Capaldi has had an excellent 2019, and maybe he could top it all off with a Christmas number one?

His new track 'Before You Go' is already a big hit, so could it climb to the summit?

Tones and I - 6/1

TONES AND I - DANCE MONKEY (OFFICIAL VIDEO)

Australian singer Tones and I has had one of the biggest hits in years with her catchy track 'Dance Monkey', and it has already spent 10 weeks at number one.

There's a decent chance it might do a Clean Bandit in 2016 and hang on for a few more weeks and steal the Christmas number one at the same time.

Adele - 12/1

Picture: Getty

Adele has been heavily rumoured to be releasing a new album in 2019, so you'd expect if she suddenly drops one before Christmas, she'll be right in the mix for the top sot.

Robbie Williams - 9/1

Robbie is releasing his first Christmas album in 2019, and there are plenty of songs to choose from as a potential festive chart topper.

With an ITV special and a number one album already in the bag, maybe he could grab his second Christmas number one? He told us that he doesn't give himself much of a chance.

Wham! / George Michael - 14/1

Wham! - Last Christmas (Official Video)

Not only is Last Christmas the big festive movie of 2019, but George Michael fans are once again campaigning for the Wham! classic of the same name to finally score the Christmas number one, 35 years after narrowly missing out the first time around.

Megan McKenna - 33/1

Megan triumphed in this year's X Factor Celebrity, and she has recorded a festive cover of Roxette's 'It Must Have Been Love', but does it much of a chance of topping the festive chart?

Mariah Carey - 25/1

Mariah Carey - All I Want for Christmas Is You (Unreleased Video Footage)

Mariah never went to number one with her festive anthem 'All I Want for Christmas is You', but she's always in the top five every Christmas.

She always has to be a conteder for the Christmas number one, depending on just how many people download and stream her classic track in Christmas week.

Bastille - 33/1

Bastille covered REO Speedwagon's '80s classic 'Can't Fight this Feeling' for this year's John Lewis & Partners Christmas advert, starring a very cute dragon named Edgar.

However, a John Lewis advert song has never topped the Christmas chart, as by then the song has already been out for several weeks.

Chris Kamara - 50/1

Let It Snow - Chris Kamara

Yes, former footballer and comedy pundit Chris Kamara has released a Christmas album.

Well, stranger things have happened!